Happy Monday! What a great weekend! My kids were off with my parents all weekend, having a grand time hitting the aquarium and taking in the sights of the inner harbor in Baltimore.
Chris and I had a great weekend, too! I spent the day Saturday hitting the flea market and some yard sales (not too much luck!), and coming home to work on some current projects. That evening we headed out to downtown Frederick for First Saturday, and walked around visiting some favorite shops like Salvaged, Silk and Burlap, and The Muse. I was excited to check out a new shop I had heard about as well, Relish Decor. It is ADORABLE! There are so many great items for the home and entertaining! Chris and I had a blast checking it out, and the shop owner is as sweet as can be. She and her husband just opened it together, and I wish them all the best! If you are in the Frederick area, I highly recommend visiting these shops!
After traipsing around Frederick, we met up with one of my fabulous partners, Sarah, and her husband, Steve, for dinner at my favorite place, The Wine Kitchen. Dinner was fabulous and the company even better!
This week I will be busting my tail while the kids are at soccer camp in the mornings so I am ready for the next Sweet Clover barn sale which is less than two weeks away! Better bust-a-move, Ms. Bustamante!
One of the pieces I recently finished is this dresser which was in a pretty sad state when I got it….
It had old brown paint, stickers, and one of the drawers (not pictured) had a broken front. I decided to remove the drawer and add a shelf.
This one was a lot of work, and still not perfect, but a huge improvement! I sanded off the stickers, but did not sand anywhere else as I wasn't certain if it was old lead paint or not. I removed all the hardware, and hemmed and hawed, waiting for inspiration. In the meantime, I measured and cut a piece of MDF to fit in as a shelf at the top. I nailed it in place. Finally, I decided that this piece needed to embrace its funkiness. I chose the oops color of green I used on the Sweet Clover barn door. It was not a paint and primer in one though, so I decided to try out Webster's Chalk Paint Powder. I followed the directions and mixed it all up… The paint went on beautifully and adhered to the old brown paint with no problems at all!
I gave it a total of two coats, lightly distressed it, finished with a clear wax, and then added some fun turquoise beaded knobs I had purchased a while back from Anthro. Here is the final product!
As you can see, this dresser is far from perfect, but I am smitten with its charm! With its new color, I can see it in a cottage living room as a TV stand, or in a child's bedroom or playroom. Bright punches of fresh color can always make a room feel so much happier!
Off to take the kids to soccer camp… Have a wonderful day, friends!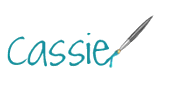 Pin
Sharing here: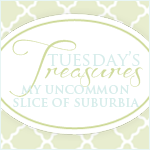 Pin
Pin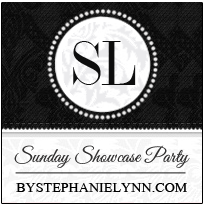 Pin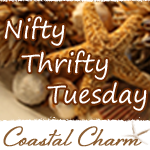 Pin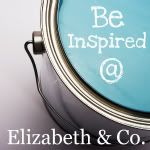 Pint;
Pin
Pin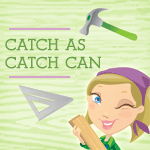 Pin
Pin