Pin
As part of our Crafty Christmas, it's my turn today to share a Christmas craft tutorial. This one is so inexpensive and so stupidly easy, seriously. Your dog could do it. With one paw and his eyes closed. Speaking of dogs, my kids were having a sweet moment with Charlie the other day, and I had to snap a picture…. it' sad to say I worry that Charlie doesn't have many Christmases left, so I wanted to capture the moment. Emmy picked out that little blanket for him when we went shopping last weekend. He loves snuggling with it.
Anyhow, back to my easy craft. I made some holiday inspired embroidery hoop art. And no, I didn't embroider. I don't embroider. Here is what you will need…
Embroidery hoops of course. I bought a ton at a yard sale super cheap, but you could pay top dollar at the craft store if you want. They are pretty inexpensive.
Acrylic Craft Paint and Textile Medium
Flour Sack Towels (I bought mine super cheap from Walmart)
Hot Glue
Embellishments (if desired)
Scissors
Sharpie
I started off by placing the flour sack in my hoop and tightening the hoop around it. I pulled the sack cloth as taut as I could and then cut around the edges to trim…
At this point, it looked like this. And it is important to note I did not yet glue into place, in case I messed up on my painting I wanted to be able to remove and start over.
Next, I got out my paint colors, and textile medium. I mixed 1 part color to 1 part medium and went to town. I don't have pictures of this process, because I just free handed. You could paint however you wanted. Once they were dry, I hot glued embellishments onto my tree painting, and hot glued the backing in place so they won't come undone. Here is what the back looks like. You can see I just hot glued along the seam between the two hoops, where the fabric poked out a little.
And here are most of my creations…
I kept one and placed it on the bookcases in the living room. On this one I used black sharpie to write the word.
And there were a couple others, but they were already wrapped before I took my nice pictures, but here is an instagram shot that shoes all of them, including one that Emmy did. 🙂
See that? Don't you think your dog could do it? I think so. At least I bet Ike could. And don't forget there is still time to link to the crafty Christmas party!
And now it's Friday! I am off to a coffee hour with a cookie swap- I made some pretzel peanut butter balls. I may not be able to share. And then my in-laws arrive later today to celebrate Christmas with us this weekend! Fun festive times! Happy Friday!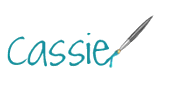 Pin