First of all, you can find me over at the DIY Club today sharing how a simple vinyl is inspiring my family each day before we leave the house. If you can't guess from my title, it's about being yourself. We are all unique and we all have something wonderful to offer this world that only we can offer…. I want to raise my kids to know that, and I hope you are all aware of it, too. 🙂 So hop on over to see which quote I chose to remind my family of this on a daily basis.
Secondly, you may remember I shared a dresser I bought for my master bedroom for $60 on craigslist. I had not been planning to get a new dresser, but when I saw this one… that changed!

Pin
Since we plan on painting the room in a few weeks, for now the dresser waits in the garage, but I couldn't leave you hanging.
In my last post about it, I was hemming and hawing over a color choice. I finally decided on a color somewhere between a teal and a turquoise. It's called "Surf Blue" by Benjamin Moore. I also bought a quart of the next color down (darker) as a tinted primer. I wanted some darker undertones. Because it rained so much, I wasn't able to work on it right away, so while I waited, I rub n buffed the hardware, which had become a dingy brass. I used gold leaf rub-n-buff to brighten it up.
I gave the dresser an all over sanding and removed as much of the white paint as possible. I gave it two coats of primer, followed by two coats of paint. I distressed it by hand and then went over it with Minwax golden oak stain. I let that dry and then I waxed it all over with Minwax paste wax. I allowed that to dry, buffed it, and put the hardware back on. And here it is…. remember it's unstaged right now, and just posing in my driveway for some photos! (The color is most accurate in the first picture)
I love it! Our room needed a bright pop of color, and this is going to be it. 🙂
Sharing here: Jennifer Rizzo

Pin
Pin

Pin

Pin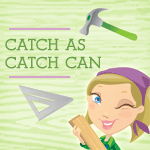 Pin
Pin
Pin
Pin
Pin
Pin