Recently, I know I shared a little sneak peek of this desk I am about to share with you. I started it a LONG time ago and then ran out of poly and tried to mix in another type of poly which was a HUGE mistake. So it sat in my garage waiting….
and waiting…..
and waiting…
Have you ever messed up on a project and then you just don't want to look at it or deal with it? Well this turned into one of those. I got it for free, so I thought about just donating it. But then my neighbor saw it and exclaimed, "Oooooh what are you doing with that piece?!?!" I explained to her what I had already done to the piece, and that I needed to fix it. Getting those words out of my mouth gave me the motivation to finally fix it properly!
I apologize because I must have deleted my before picture since this was so long ago. We are talking late summer, folks. I am sort of embarrassed by how long it sat there, but hey, at least it is done now! But let me tell you, this piece was shellacked like crazy- super shiny faux mahogany look with shiny brass knobs…. it was not my thang.
The paint color is my go-to black, Lamp Black by General Finishes, and the finish is Minwax wipe-on poly in satin. That is what I had run out of the first time, but I ordered more from Rockler so I could fix it!
The final crowning touch is the gorgeous clay knobs, hand made by Jacqueline at Simple Home Life. She also sells them in her etsy shop and has lots of fun designs!
Ok, anyhow, on to the FINAL reveal. I feel like there has been all this build up and it's really not all that exciting. Well, I present to you my black desk….
This would be great as a nightstand/workspace or even as an entry piece. It's such a great small size!
Tomorrow I will be back with pictures from this month's barn sale! Sarah and I spent some time yesterday setting up and making it Springy! Now we just need the weather to be Springy, too.
Happy Wednesday!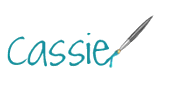 Pin