Welcome to week three of the Bloggy Olympics! This week will be all about PAINT. Today, you will get to see three different tutorials and projects: one from me, one from Gwen, and one from Katie. My project is a fun one, but I am going to share with you all the snags I ran into along the way. And there were a few! 🙂
I got this bed a few months ago from freecycle.
I decided to use some leftover DIY chalk paint I made mixing approximately 1c. eggshell latex plaint with a mixture of 1/2c. water and 1/2c. plaster of paris. Let me tell you that what I discovered is that DIY chalk paint is best suited to be used once, so mixed in small doses. When it sits for a while, the plaster starts to solidify and you get all sorts of granules in the paint.
The paint still worked and adhered, but I had to sand well between coats. I gave it one coat, sanded smooth, and recoated. Here is a picture to show you what it looked like before I sanded smooth the second time….
Yuck, huh? Well, luckily it sanded smooth… not a problem! We DIY-ers just have to figure things out sometimes, right? Anyhow, I decided to give the headboard a little detail since this bed was so plain. I had a butterfly stencil with two different sized butterflies. I gathered up white acrylic craft paint, and a sponge brush. I placed the stencil in different places and created a random little group of butterflies.
I wanted the bed to have a beachier feel over all, so I sanded down the butterflies for a lighter effect, and also distressed the edges of the bed lightly. Then I applied Minwax natural paste wax with a rag. I allowed the wax to dry for 15 minutes, and then I buffed it with another rag. Voila!
Don't forget to check out the other gals' paint projects today! 🙂 And get yours ready to link up here, or at Katie's or Gwen's on Thursday at 8 pm EST!
Gwen is also hosting a fabulous paint related giveaway, so be sure to check it out!

Pin
Pin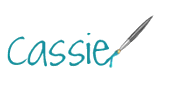 Pin
Sharing here: