This week is the week of working on projects I found while with Gwen. What can I say? After I bought them, I got to work! I found this table at the Salvation Army for $10. I am not sure the base is original as it is sort of awkwardly large in my opinion, but I liked its quirkiness. I felt that we were one and the same, this table and me…. quirky, and having a bottom that is slightly oversized compared to its small top. He he.
So you see that front foot? Yeah. I broke it when I was shoving the table into my car. Oops. I glued it as best I could, but the metal was slightly bent, too…. Oh well… quirky table. I knew I was going to distress it, and it was still quite solid and sturdy, so I rolled with it.
I didn't sand it at all. I simply wiped it clean, and went right to work with CeCe Caldwell's Blue Montana Sky. I gacve it a couple hours to dry and applied a second coat and allowed that to dry. I distressed it with 150 grit paper. I love that this paint distressed beautifully, and adheres SO well. Once all that was done, I waxed it with CeCe's clear wax, which is totally safe to use- NON toxic, people! It goes on really easily, too. After the wax dried, I buffed the table with a rag, put the hadware back on, and voila!
Just goes to show that you can be larger on the bottom, slightly awkward, but dressed right, you can still look fabulous! 🙂 Sharing here:
Pin
Pin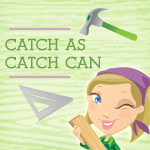 Pin
Pin
Pin
Pin
Pin