I am TIRED as I write this! I spent most of my day yesterday at Sweet Clover getting ready for this weekend's sale. We moved furniture all day long and by 4 pm I was ready to crash. However, I had to get this little project done as it was needed for the "Mancave" a couple of our vendors are creating in our cottage.
A couple months ago my neighbor emailed me because the church she works at was about to dispose of 5 "office chairs" and would I be interested? She sent me a pic and I saw their Midcentury style and knew I would love them! The pleather was in good shape on most of them, but the upholstery foam in the seats was deteriorating which is why they were being tossed. The fabric on the seats was also dated. I decided to give them a quick and easy makeover with some new foam and some fabulous buffalo check fabric from Ikea.
Here is what I started with….
I unscrewed the seat from the base and scraped off all of the old upholstery foam.
I then cut my new foam to size by laying the seat on top of it and then marking the foam where to cut by dragging my scissors along the edge of the seat.
I then cut the foam to size.
I placed the seat upside down on top of the fabric and cut my fabric to size, leaving plenty of border so that I could staple the fabric on to the underside of the seat.
After stapling around the sides, I carefully did the corners, which are always the hardest.
I started by finding the center of the corner and folding it in.
I then create a peak to one side and fold it in, and repeat the same on the other side.
Finally, the seats were screwed back on, and the chairs were ready for their mancave!
Here you can see what the corners look like on the cushion.
And I just love these little brass tips!
This makeover was so simple, but made all the difference for these chairs! They are headed to Sweet Clover today!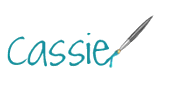 Pin
Sharing here:
Tatertots and Jello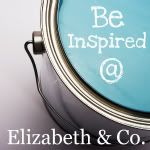 Pin
Pin
Pin