First of all, my friend Shelley is enjoying the warm snuggles of her newborn baby boy. While she is doing that, I am a guest on her Crazy Wonderful blog! I am over there sharing my dream Christmas, so pop over and see! Here's a little sneaky peeky….

Pin
And if you haven't been to Shelley's before, have a look around. The girl has amazing style and talent. Look at her lucky little man's new digs!
Anyhow, I thought I would also share a recent dresser makeover with you today….
Each Sunday morning I go for a walk with a couple of girlfriends. A couple weeks ago, we walked by a home that had an office chair outside with a "free" sign on it. Of course none of us stopped or mentioned it and kept walking. Later that day, my friend texted me "The house that had the office chair now has a free dresser. It's nothing special but thought you'd like to know." A free dresser on the road less than a minute from my house…. I hopped in my car and checked it out! It was a plain jane indeed, but it was wood and had potential.
I knew exactly what I wanted to do with this plain jane, and hardware was going to be the key! It had such straight lines that I wanted to give it an industrial look. I removed all the hardware (plain wooden knobs), filled the holes, sanded it, and gave it 3 coats of My Perfect Color by Pantone in Whitecap Gray (really a warm off white). I then distressed it with my sander, hitting all the edges and finished it with SC Johnson paste wax.
Now, I was able to get enough card catalog style pulls for it, but they were all SHINY brass. Like super shiny, the 80's called and want it back shiny brass. I used my trusty rub-n-buff in gold leaf to give them just the right amount of shine, tone it down a bit. Then I attached the hardware with the screws provided. And voila!
Sorry no staging- it's heavy and I was by myself and it looked like rain was coming! 🙂
Here you can see how the rub n buff helped….
I just love how this turned out- what is it about those card catalog pulls that makes us all weak in the knees?
Happy Monday!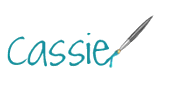 Pin