Happy Memorial Day! I hope you have been enjoying the long weekend and have also taken time to thank in your hearts those who are serving and have served our country.
As I already told you about my Saturday… Sunday we went to a cookout with my team from the gym. I coach a challenge team twice a year, and we compete by earning points for various activities, and for coming to the gym a certain number of times. I have coached it for almost 4 years now, and I am the only group ex instructor who coaches a team. Mostly trainers do it, but when they started the program I volunteered to help because it's so rewarding. I have seen so many people reach goals, lose weight, feel better… it's what the fitness industry is all about. My team this past session was the closest knit group and the best team I have ever coached. We won the challenge, which was exciting, but we formed awesome friendships. So yesterday was spent celebrating those friendships with a cookout, mostly healthy food of course! My kids had a blast playing hide and seek with the other kids there! Last night we all crashed.
Today was project day! I have been wanting to paint my front door for some time, but had no time to do it! Finally, Lucketts is over and I needed to get it done! It was a pretty pink berry color that went well with the pale gray, white, and black of the house, but I wanted change. And I didn't want red because it's too done… I went with a bright and cheerful yellow! It still needs another coat which it will get tomorrow, but I couldn't resist showing you! Here it is before…
In the above picture, we did not have our storm door on because it had broken. We now have it back up, but I propped it open so you can see the door better. Here is the front door now!
It is certainly bright and I need to get used to it, but I think I like it. Time will tell.
I also worked on the wall facing you as you walk in your front door. I added the owls a month or so ago, and I loved the two big ones in the frame, but I wasn't feeling it was the right spot for the 4 small ones (I need to find a new place fro them… ideas?) I took down the small ones, and created a gallery wall. I clearly need to fill some of the frames, but I have some saved printables I plan to print out soon and add. For now, it looks like this!
Now onto a couple spray paint projects! The other day when I went to Wild Rose with Emily, not only did we happen to get there on bulk trash day, but we also stumbled upon a barn full of vintage junk. The dirty gross trinket-y kind, but if you are willing to search, you might find some treasures. I found this adorable tree and squirrel vase for $2!
Isn't it precious? My husband kept trying to convince me that it was a bong. I am pretty naive when it comes to things like that, so I started to question myself… I was thinking, "Oh my gosh, I just bought a vintage bong!" He started to laugh, so I had to ask "Are you messing with me?". Indeed he was. Jerk.
Anyhow, I spray painted it white, and I personally think it looks lovely enough for flowers, not of the weed variety. 😉
I also started working on a couple custom orders today now that Lucketts is over, and also worked on a dresser which I hope to reveal tomorrow. Stay tuned, and enjoy what's left of the long weekend!
Linking here:

Pin
Pin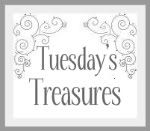 Pin
Pin