Happy Monday! I hope you all had a wonderful weekend! We had an awesome time with Chris' little brother Travis and his fiancee, Jill, in town! Friday, Jill and I hit downtown Frederick and had a wonderful time browsing, having lunch, and purchasing wine! We stopped in Silk & Burlap which is an awesome boutique owned by another mom here in town. (Actually, her husband was Sawyer's basketball coach!). We ate at The Orchard, which is one of my favorite restaurants in town- YUM! We wrapped up our outing with a stop at Firestone's Market for a couple bottles of wine.
The kids came home from school with new books from a book swap; Emmy was excited to show off her reading skills to Jill….
Oh, and I had Chris pick up some fresh flowers for the house, you know, since we were having guests. And I wanted them. He picked up some beautiful pink tulips, and I placed them in avintage aqua enamel pitcher.
Saturday, we headed out to the last game of the season. Sawyer had scored in two games this season, and I had to work both of those days and had yet to see it. I was thrilled that my little ball player scored two baskets in Saturday's game! Here he is with his trophy. And in the background what you see is kids popping bubble wrap the trophies came in…. yep, it sure is the little things in life!
After the game we headed to a bowling birthday party and had a blast bowling! Saturday night was chilly so we built a fire, drank some wine, and had a match of trivial pursuit. It was so wonderful having Travis and Jill here- they are just so easy to get along with and the kids adore them!
Oh, and they are in the process of buying their first home, so the kids and I are looking forward to heading to Charlotte this summer to pay them a visit!
Sunday, we were al pretty exhausted, so we spent the day at home, relaxing, building a Charles Wysocki puzzle, playing a couple of rounds of Boggle… low key fun, and exactly what we needed!
I was so busy that I haven't worked on anything new, but thought I would show you this stool I redid for our January barn sale. It was plain Jane to begin with…
I painted the base in Graphite chalk paint (two coats), lightly distressed it, and waxed it with clear wax. I recovered the seat in red chevron for a funky little touch, and here is where it ended up…
It was a simple redo, but I think it certainly has a little more wow factor now!
Hope you had a amazing weekend and that your Monday isn't so bad either. 🙂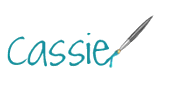 Pin