Pardon the weird angle- I usually like to get both couches and the whole mantle in this shot, but my regular go to lens crapped out on me, so I am stuck with another lens for the moment…
The mantle features the gorgeous handmade stockings as the focal point. I found a skinny silver and colorful garland for 25 cents at the Salvation Army and strung that in between.
Here is a closer look at the garland as well as the beautful needlepoint. I love all of the stockings, but is it wrong for me to say I think mine is the best? Sssshhhh don't tell the others.
Lollie, our elf, is not usually on the deer, but that was where he landed the night before I took these photos, and I can't touch him, so there he stayed. 🙂 On the right side of the mantle, I have white flocked deer I found at a yard sale, and a white enamel pitcher from Ikea with silver branches and red vintage ornaments.
Just look at that smarmy elf… who does he think he is?
On the left side, I have a mercury glass tree, and some vintage candlesticks and a white penguin, all thrifted finds. (You may recall the candlesticks have hung in there for both my Halloween mantle and Thanksgiving mantle). And of course I have lights on the mantle as you can see.
To the right of the mantle is our little "for now" cable box stand. On top of that I have a gorgeous huge white vase I won from a giveaway from Sherry Hart. I kept the Halloween branches I had in there (from my neighborhood), and hung more vintage red balls. Next to it sits two milk glass vases, with little sprigs of greenery, a brass deer I thrifted, and a brass owl, which was a gift from my sweet friend, Carmel.
Above the stand hangs my birdcage my mom gave me for my birthday. I already showed you the deer inside of it, but Dana suggested I add a tree, and I love that idea- thanks, Dana!
The crowning element of the room, of course, the essence of Christmas, is the tree. We always go as a family to get our tree, but this year Emmy was so sick, so I sent Chris and Sawyer to pick it out and told them I wanted one that was a little sparser than we usually get, sort of Norwegian looking. They did a beautiful job of selecting and cutting down our tree!!! (And if you are wondering why we didn't just wait so we could all go, there literally was not another weekend we could do it all together).
I decorated the tree with my great grandmother's red wooden beads, my favorite white star, and red, green, white, and silver vintage and special ornaments. Many of the vintage ornaments on this tree were passed down in our family, and I love having them!
To the left of our tree is our big picture window, which I filled with artwork of Christmas past from my kids, and the sill features little cardboard houses, 2 vintage and 3 replicas.
Continuing around the room, our paris gray and gold desk and chalkboard are decorated a little as well. My besty, Ali, made me this awesome pom pom garland last year when we moved here, and I strung it so it looks like my gold hummingbirds are putting it up. 🙂
On the right side of the desk I added some greens in a silver tarnished vase that was thrifted.
And on the left side a retro handmade snowman I found on ebay several years back, a jar of my favorite meltaway peppermint candies, and a snowglobe that was a gift from Sawyer the first year he shopped the school Christmas shop.
On the coffee table sits the vintage firetruck planter I found with a bottle brush tree, milk glass filled with glittered vintage bulbs, and vintage ornaments.
And on the other side, a white fawn, and a book by L. Frank Baum (Wizard of Oz author) titled The Life and Adventures of Santa Claus. I found it recently at a thrift shop and knew it would be perfect for Christmas… I can't wait to crack it open and read some of the stories to my kids!
Our bookcases also got slightly decked with a few little decorations, glittered pinecones, an fresh greens.
I love that photo of Sawyer in the Santa hat… he was just 3 1/2 months old when I took that picture.
And finally, one more addition for the holidays…. Can you spy it in our gallery wall?
Here's a closer look….
I saw this idea to create a deer head mount with a paper mache deer over at Dimples and Tangles. LOVED her idea! Jennifer framed hers and I loved it….
I already had a paper mache deer with silver glittered antlers, so I knew he was perfect for this project! I bought a wood plaque at Joann's, painted it white, and Mod Podged red plaid paper onto it. Then I used a razor to behead my deer, and I used hot glue to attach the head to my plaque. I added a picture hanger to the back, and it was ready to mount on the wall. Easy and cute!
Come back tomorrow for some handmade gift ideas!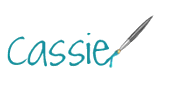 Pin
Sharing here:
Pin