Something about the fresh clean slate of a new year makes me want to create a clean slate around me. I have been storming through the closets around here, and getting rid of unused items. It's felt great and it's also made me want to make use of all that wasted space! Among the items we have disposed of were two working TV's…. I try not to touch the electronics and Chris likes to hang on to them, because you never know when you might need an old TV. I mean they did work. (And don't worry, they didn't go to the landfill- they went to Goodwill). Both TV's were rather large and one of them was on the floor of the closet in the playroom, which is a tiny awkward closet under the stairs. When we moved on this closet had the ugliest, dingiest curtain you could imagine hanging on it. I left it there forever, because we weren't using the closet anyhow, except to store the TV and all of our DVD's. I had a bookcase in the garage that hadn't sold that was a perfect fit for the DVD's, and the TV was gone, and BOOM usable space! But so little…. and awkward. Who could even use it? Who, but a little person like this…..
Photo taken with a mouth full of marshmallow while decorating a graham cracker house
Pretty much exactly one year ago, I created my own craft closet in the guest room. Here's a little refresher in case you don't remember….
I am proud to say my own craft closet looks relatively the same because when everything has a place, it's easy to clean it up!
I decided to give my craft daughter her very own craft closet under the stairs! Here is the space I started with. At this point in time you can see I at least changed out the curtain for something a little more fun. I had these pink polka dot panels on hand. I had planned on using them in our old house and never did, but I liked the fabric, so kept them. I still need to hem it. You can also see the awesome indentation in the carpet from the old heavy TV.
Now, let's look behind that curtain to see what it looks like now….
I had this vintage child's table in my garage as it had been in the playroom before I got the larger round antique table. I also had the chair on hand. It was one of the first vintage child's chairs I painted and I love it! I hung a vintage sheet bunting I made last Spring when Ali was here. I painted the back wall and the angled wall with Dutch Boy in Lake Champlain that was left from my old sideboard. I planned on painting the entire area, but once I had that area done, I liked it just like that! And of course aside from one lightbulb, there is no other light, so keeping the white on the sides helps keep it brighter.
On the top shelf I used metal buckets I had on hand and filled them with foam stickers and paint- things that Emmy needs to ask for if she wants to use, thus up high and out of reach!
On each side, I used items I already had from the barn that had not sold, and some items from her room. On the left side (which is hard to photograph, so I apologize!) I hung a pink E I bought her a year and a half ago at the Rose Bowl Flea, and some cute vintage wooden plaques that hadn't sold. They remind me of Holly Hobby, but are not. But they sure are sweet. I also had a vintage resib plaque featuring a toadstool and frog that I had painted pink and it had not sold. (I know…. not everyone loves this stuff like I do!!!)
This one is Emmy's favorite because she loves ice cream!
On the right side I added crayon artwork my brother's girlfriend had created for Emmy, a cute upcycled aqua owl my parents gave me, a pink chandelier chalkboard that had not sold and some butterflies that had not sold.
As of Sunday I had completed all of that, but I needed to make a trip to Ikea to finish it off and give her a little storage. I already had baskets we weren't using anymore, but I needed a shelf, and I needed the bar with plastic buckets I had seen there. Sarah and I took a trip and I picked up what I needed, and am happy to report that I only spent about $25 getting those last items, and that is the only money spent on this project. Here you can see the white shelf, the bar with hot pink buckets filled with her crafty things, and of course I added a cute vintage aqua owl to the shelf (a gift from my sweet friend, Emily).
And here is one more look at the final product!
And I am proud to report that she has been LOVING it! She used it all Sunday afternoon even without the shelf and storage, and she used it again yesterday when she came home from school. Just look at the creative genius this room is already producing.
Gluing pom poms in a row, and writing bow wow wow…. that, my friends, is art.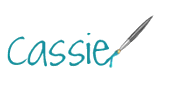 Pin