Today was Emmy's second to last day of school for the year. I got some last minute painting and sewing (say what!) done. Yes, sewing! I went through my vintage linens last night and found a pile of matching creamy vintage napkins. One corner of each was embroidered, so I measured how big the design was to figure out how big to make my triangles. I was able to cut some plain ones from the opposite corner as well.
I cut them using my rotary cutter, which makes it nice and easy. Then I used a 9 ft piece of grosgrain ribbon. Each of my pieces of fabric was 15″ long, so I was able to use 5 on each (I made two) and save some room at the ends for tying of pinning. I lined up the raw edge of the linen with the piece of ribbon to feed through the machine and continued on this way with each triangle.
I wanted a zig zag pattern, so here are my settings…
Super easy, and done! It is coming with me to Lucketts but I hung it up on a cabinet so you could get the idea.
Speaking of the cabinet, it has some new pieces! I want to send a huge thank you to my good friend Allison, who sent me some of the mercury glass pieces she was purging. She sent me two these of jeweled candle holders…
And two of these candlesticks (which are near the swam from Ali!) And who is that peeking in the glass! he he!
And this large candlestick.
And my friends know I am like a raccoon…. ooh shiny things! Just send me some aluminum foil and I will be happy! 🙂 I had a big surprise waiting for me in the mail today! Ali of My Third True Love sent me this adorable vintage shiny owl! We think it is an ornament… isn't he so cute? And her sister, Lisa, who just started a blog called Turning the Tables had purchased the card knowing Ali could use it at some point to mail to me! I love my friends!
I added some twine to the owl and hung on my cabinet door…
Now when I look in this cabinet, I see things that remind me of all the wonderful friends I have made through blogging. And I am so escited because I am heading to California in the fall to see my brother (and help him in his house!) and Ali and Allison! I couldn't be more excited!!! Thank you so much for the lovely and thoughtful gifts, ladies, and for the friendships we've formed.
Linking here:

Pin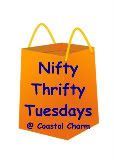 Pin
Pin

Pin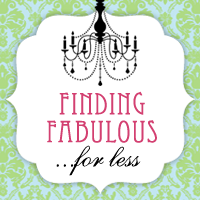 Pin