Last year during the holiday season, I participated in "Dare to DIY" with
Kim of Newly Woodwards
and some of my other favorite bloggers! (Sidenote, I also found a couple of my favorite blogs to follow that way, including
Wills Casa with this project I adored
which clearly I subconsciously held in my mind as my own dining room's inspiration.) This is Kim's baby, and this year, she asked me to share in her baby. Not her real baby, Henry, but her Dare to DIY baby. This one doesn't require diapers, so I was all on board! I was actually blown away and honored that she asked me to be a part of it! If you aren't aware of what it is, here is what Kim has to say:
It's the most wonderful time of the year!
It's Dare to DIY time!
Some of you may be familiar with this little link party I host each December called "
Dare to DIY
." It's a fun series of link-ups to motivate us to DIY projects through Thanksgiving and Christmas – and to do it together. It's a great way to complete some of those holiday projects and meet new blog friends.
Lucky for us, the fifth year of this series of blog parties is going to be the best yet!
And why, you ask?
Because this year, I'm co-hosting with three of my favorite bloggers –
We'll all be hosting one week at our blog and we'll have an awesome giveaway each week for one of you! That means more projects and more fun!
Here's the plan:
Each
Monday
morning, the link party goes live for that week's Dare to DIY challenge at the blog listed above. You can link up your best project (or two). Just remember that the post should correspond with the theme of the week.
The linky will stay live through
Wednesday
. Later in the week, each of us will spotlight at least
3 projects we loved from the week on our blogs
. And one of you will win a special prize! We'll also pin those projects on
our shared Pinterest board
.
The only rules:
1. Please follow the Dare to DIY theme of the week (see below). You can share up to 2 projects.
2. Please link back to Dare to DIY on one of our blogs.
3. Please go to at least one other blog and comment. This is a party. So get to know a few other bloggers.
And here are the themes – starting in less than 2 weeks. Dare to do it, baby. Dare to do it.
Party Date:

Monday, Nov. 25
DIY a Thanksgiving project to remind you to be grateful during this season. Ideas include a Thanksgiving advent calendar, artwork or banners.
Giveaway: One of you will win 1 artisan enhancement 8 oz leaf and foil, 1 artisan enhancement 8 ounce clear topcoat, 1 copper gilding wax, 1 silver gilding wax and 15 feet of foil from Catfish Studio.
Party Date:

Monday, Dec. 2
Dare to… entertain!
DIY something for your table. This could be something from last week's Thanksgiving table or a new Christmas look. Get creative and use things in new ways. Or go true DIY and make something totally new. Ideas include place mats, table runners, place cards or centerpieces.
Giveaway: One of you will win 50 free Christmas cards from Tiny Prints.
Party Date:

Monday, Dec. 9
Dare to… give homemade gifts!
DIY a gift made by you. Nothing is more special to give than something you created, so share projects that will be go in brown paper packages this holiday season. Ideas include bath and body items, kitchen gifts, hand-sewn clothing or home decor.
Giveaway: One of you will win a free stencil from Royal Design Studio.
Party Date:

Monday, Dec. 16
Dare to… deck the halls!
DIY something new to deck your halls. Did you find something in a catalog that you wish you had? Wreaths, stockings, pillows or advent calendars? Make it! Inspire us all to do the same.
Giveaway: One of you will win $100 from Red Envelope.
So, what do you think? Will you dare?
Thanks, Kim! I hope you will join us as we give thanks, entertain, give homemade, and deck our halls!
I'll be back tomorrow for some Instagram updates! Happy Friday!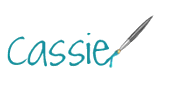 Pin