I found this little nightstand at the auction a couple weeks ago and thought it was perfect for a fun treatment.
Here it is when I was through…
Hop on over to the DIY Club to see how I did it! Just click on the button…
Pin
Also, right now, the DIY Club is celebrating its one year anniversary! There are giveaways every day! Each of the main girls is having specific parties going on now- go get yourself featured! Here's all the details!

Pin
Linking here: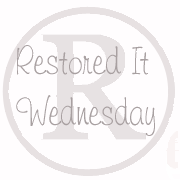 Pin
Pin
Pin