I have such a fun and silly craft for you today!  My friend Ariel organized a fun blog hop and several of us are sharing gorgeous ornaments, DIY ornaments, or sentimental ornaments.  You can find the full list with an image of each at the bottom of this post. I honestly had no idea what I was going to share, but signed up anyhow.; I knew I'd have something to show you. This past week I was sitting in my kitchen thinking about the peg dolls I had in my basement that I had found at a yard sale, and thought  they would make great ornaments.  I looked out the back window to see the chickens and inspiration struck for my DIY Chicken ornament.
Pin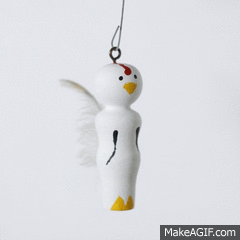 Pin
Today I am going to show you how you can easily create your own.  You will need the following:
Craft paint (I used decoart Americana in Primary Red, Saffron Yellow, Black, and Titanium White)
Miniature Eye Screws
Paint brushes
Feathers (If you don't have your own chickens, these are a great deal!)
Hot glue gun & glue
PinI began by painting all of the peg dolls white, minus the very bottom that I used to hold them and allowed them to dry for a few minutes; it didn't take long!).
PinOnce they were dry, I painted the bottoms, allowing to dry, and then applying a second coat.
Next, I added the feet and beak with my yellow paint.  I painted simple triangle feet and triangle beaks.  I am no artist and I didn't want these to be too complicated.
PinTo add the eyes and wings, I used the opposite end of my paintbrush, the plastic tip.  I dipped it into the black paint and dotted the eyes, and then drew simple lines for wings.
PinAnd for the combs, I dipped my brush in the red paint and gave it a little squiggle on the forehead and drew my line towards the top of the head.
PinOnce they were painted and dry, it was time to attach hanging hardware.  Note: I did this before gluing on the tail feather because I knew I would need to twist and apply pressure and I didn't want to damage the feather. Now, you may use a drill for this step but I did not.  I simply applied pressure as I turned the eye screw into the top of the chicken head.
PinThe last step was to add the feather.  I gathered feathers from my own chickens in the yard (I did not go plucking them off!) but Amazon sells a great pack here if you don't have any.  My feathers were a little large for these dolls as you can see.
PinI cut the tops off of these to make them the right length, and then placed a dab of hot glue on the back, and added the top of the feather and held in place for a minute.
Pin
Finally, they were done and ready to hang on our tree!
PinI will be sharing more of our tree next week in my tour, but this year I didn't really get as OCD as I usually do with it and it's full of family memories and gift ornaments.  And to be quite honest, it's my favorite that we've done for that reason.  Our dogs have several ornaments, so it's only fair that the chickens do, too.  
Pin
Now head on over to visit all of the others!
Pin
1. This Is Our Bliss // 2. The Striped House // 3. Up To Date Interiors // 4. Southern State Of Mind // 5. Maggie Overby Studios // 6. Casa Watkins // 7. Domicile 37 // 8. Two Thirty Five Designs // 9. PMQ for two // 10. The Gathered Home // 11. Bright Green Door // 12. Cassie Bustamante // 13. Blue i Style // 14. Monica Wants It // 15. Jennifer Dimples and Tangles
Affiliate links were used for your convenience.  Thank you!