Before we get to it, let me remind you where it was just a year ago, when it was her "woodland" bedroom.

Pin
It was pretty and I loved it.  But I should emphasize "I" loved it; Emmy's littler personality is full of color and cheer, and she craved a space that reflected that.  She specifically asked me for a room that was "sunset colors with aqua".  So we got to work and made some changes!
We kept the same bed, and I gave it a golden makeover!  We were lucky enough to have a friend giving up her aqua canopy; we happily took the hand me down, which was perfect over her bed.  We changed out the bedding to a West Elm pintuck duvet we had on hand.  I added some awesome vinyls from Cherry Walls decals, and we also needed stuffed animal storage, so added the hanging tube.
Our Elf on the shelf, Lolly, built this hanging display and gave it to Emmy in 2012.  We hung some fun vintage bookpages on it.
This settee at the foot of her bed is really the last major change that needs to happen.  For now I have covered it with a granny chic afghan.
Her closet doors, which had been painted with chalkboard paint and had a deer on them came off… that was a touch decision for me!  But the doors opened out and in her small room they created a challenge with the space.  The friend who gave us the aqua canopy also gave us these gorgeous deep pink curtains from Ikea.  I mounted a rod inside her closet and hung them up.  I love the bit of drama they add to the space!  I also moved her vanity into the closet, and changed the hardware with some awesome gold heart knobs from D.Lawless hardware.  (I had first spied them at Dear Emmeline).  Her clothes still hang in there behind the curtains.

Pin
On top of her desk she has lots of pencils and special trinkets.  Inside her desk is loaded with art supplies, glitter, rhinestones, crayons, coloring books, her diary, and tons of other folded up papers she likes to cram in there….
To the left of her closet she has a sweet brass fox hook from Anthropologie that houses a purse I found for her for Christmas.
This girl has lots of "stuff" so we have lots of pieces to try to keep her somewhat organized.  I painted this sweet stand a while back, and it fits magazines perfectly.  We also use it to corral her jewelry which is a mess!  She wants pierced ears… I tell her when her jewelry is well organized.
Check out this mess….  I don't think earrings will be happening any time soon.

Pin
Her yellow dresser was a freecycle find that I painted yellow and adorned with funky mismatched knobs, and the instagram display was created from a free to me vintage headboard I spray painted orange.
To the right of the headboard she has adorable woodland fantasy art that my parents gave her.
And we still have traces of the woodland animals and gnomes on her dresser…
Do you see those headphones?  They connect to her ipod, and she LOVES to go around the house singing Taylor Swift songs at the top of her lungs with Last Christmas being her favorite, no matter the time of year.
Pin
On the ledges we display pretty books and treasures like this peace sign I got for her at the Country Living Fair…
And this sweet piece of art my mom made for her from a quilt.  I think it suits her well- she seems to have charm.
Finally, in her little faux bois nook that I hand painted, sits her dollhouse, which my neighbor built and I painted and decorated.
Emmy has lots of fun playing with this dollhouse, and redecorating it.  She is a girl after my own heart.
Papa and grandson reading books together…
Father and Mother are relaxing in the living room.
I think the little bathroom is so fun!
And here is her nursery…
Grandma and granddaughter enjoy a plate of cookies.
Wow, that was a LOT of pictures.  Like I said, she's a girl with a lot of stuff, so I had a lot of stuff to show you!  Her space is colorful and creative and spirited and suits her perfectly!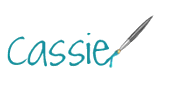 Pin
Sharing here:
Liz Marie Blog; Tatertots and Jello

Pin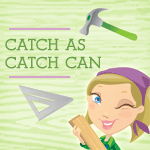 Pin>
Pin