Happy Birthday to Sawyer and me today! Collectively, we are 41 years old. He turned 7 today, so you can do the math and figure out my age. 🙂
I cannot believe 7 years have passed already. Sawyer has grown so much, learned so much, and yet has taught me so much more. He has the biggest and purest heart of any little boy. This past weekend, while he stayed at my parents house, he wrote a letter on my dad's computer which read like this:
My heart melted but I have come to expect no less from him. He may be quick to lose his temper sometimes, but he makes up for it by being quick to show his love and affection. And I know that my mom and my mother-in-law would agree that he might be the best snuggler around.
Sawyer, I love you, and I am so proud of the boy you have grown into. I can't wait to see what the future holds for you. You will always remain my sweet baby boy.
Sigh.
And now, on the less personal level, I am sharing the second installment of my furniture painting series today over at Remodelaholic! Today I am reviewing Annie Sloan Chalk paint and sharing how this bed went from this….
to this….
with a little glam….
Hop on over to see it! Also, I will soon be welcoming my new sponsor, Kelly from Stylish Patina, as she is an Annie Sloan stockist and can ship!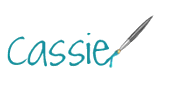 Pin