How is that title for SEO optimization? I don't care about that, but I just couldn't come up with a good title. 🙂
I found these chairs recently at the flea market for a sweet deal for all 4. The catch of course was that they needed some work, like new seats, and some joint repairs.
Today, you can find me over at The DIY club sharing how I repaired the joints with just some Gorilla Glue!
To solve the seat problem, I used a method my father taught me.
First I removed the caning from the 3 chairs that still had it in tact. Once that was complete, I painted the chairs. They had already been stripped, so no priming or sanding needed. I mixed a concoction of one part water, one part Benjamin Moore Aura in platinum gray, and brushed on just one coat. That dried in no time; and then I distressed and used Cece Caldwell's all natural furniture wax to seal.
After the chair frames were taken care of, I got to work on the seats. I used a piece of posterboard and set it on my work bench. I set the chair upside down on top of that. I traced an outline of the inside of the seat within the frame of the chair. I used that outline but went out about another 1.5″ and drew the pattern a little larger. Once I had it drawn on the posterboard I cut it out, and placed it on the chair seat to see if I had created the proper size and shape. I lucked out this time and got it on the first try- sometimes it takes some tweaking!
Next I used 1/2″ thick plywood and traced my seat pattern onto my pieces of wood 4 times. I used a jigsaw to cut out the seat. After the first one was cut, I retested before cutting the other 3 to make sure it would in fact fit. Yay! Success! Then I patted myself on the back and thought "Dad would be so proud if he could see me now!" After my moment of celebration, I cut out the remaining 3 seats and brought them inside to my craft closet. Once there, I cut a couple of layers of batting per seat as well as a piece of fabric (I used a drop cloth) slightly larger than the seat. I used my staple gun to attach the fabric to the wooden seat and cover the batting in the process.
Once that was done, I took the seats back out to the garage to attach to the chairs. I used three 2″screws per seat (3 because I could not get into the back area as a dowel blocked me). I used the existing holes from the caning to sip the screws in and attached each seat with a screw in the front, and one on each side.
This process may seem a little confusing, so always always feel free to email me if you try it and you have any questions along the way!
Here are the chairs with their new color and new seats! They are now ready for every day use and are available as of today at Ginger and Spice Marketplace (Formerly Wild Rose) in Walkersville, MD!
I guess I have been on a bit of a chair kick, huh? Another chair coming tomorrow! And I even got one the other day to attempt reupholstery on. No guarantees that project will happen any time soon, but I am ready mentally to tackle it!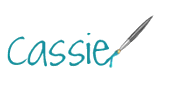 Pin