Happy Monday!  I have a colorful and fun makeover today- a gilded coral crush vanity with a surprise inside- a chalkboard!
Pin
I found this vanity via craigslist recently.  It definitely had some layers of old paint, and the alligator effect it had in areas led me to presume there might be some lead paint in there.
Pin
As much as it would have been nice to strip it, I do not mess with lead paint.  I simply gave it a light sanding outside, and then went to work with paint.  I wanted to go with a fun color that would work for a tween or young girl, as that's who I envisioned using this piece.  I applied the first coat of General Finishes Coral Crush (which adhered beautifully, even in areas I didn't sand).  Once that dried, I gave it one more coat; it went on so beautifully that I only needed two coats. (This was a great lesson to me that when I use Coral Crush, I should prime first for a nice solid base coat).
Once the paint was dry on the exterior, I flipped open the top, and painted the interior with the same color,minus the underneath of the top, which I wanted to paint with chalkboard paint.  I didn't take a picture of the inside, but it was pretty dingy and needed some freshening up.
As mentioned, I painted the flap that opened with chalkboard paint in black.
I then gave it a light distressing all over to highlight the shape.  This piece would have been lovely without distressing, but because it had layers of imperfect paint, a smooth clean finish wasn't in the cards, so I rolled with it and distressed.
Next I applied General Finishes Satin Finishing Wax with a rag and allowed it to try (only about 10 minutes).  Using a clean dry rag, I bugged it to a hard smooth finish.
To show off its details and add some glam to the existing hardware, I used King Gold gilding wax from Catfish Studios.  And finally, the icing on the cake… I had some retro true vintage contact paper that had the perfect coral crush color in it and added that to the bottom of the inside.
Just for fun, I have got to show you the backside of the contact paper- it's just full of ideas!  You can add it to your canisters, hamper, backsplash, or even your refrigerator! 😉  But I do admit I am jealous of the Saarinen table and chairs…
Pin
Anyhow, after all of that, here is the final product….
Pin
As you can see, I staged it with some finds like the vintage Rya rug, brass unicorn, gold bamboo look frame, and milk glass head vase.  (All but the frame came from the flea this weekend!).   The head vase was a little treat for myself- I've been wanting one!
I love that even the sides of this piece have a pretty shape.
Pin
The details really shine in the gold, and I am loving the pairing of gold and coral.
Pin
If you look to the left in the image below, you can see some of that alligatoring of the previous layers of paint I was referring to- this is characteristic of lead paint.  I did not test it, but it was enough for me to want to leave it alone.  Now that it is painted and sealed though, it is safe to use.  But I wouldn't recommend eating this vanity.
Pin
And the chalkboard inside is just a fun touch for its new owner.
PinAnd finally, here's a peek at the contact paper in place- wasn't the color perfect for this piece?  It also keeps it feeling a little more retro and youthful.
Pin
I was so on love with this one that I really wanted to replace Emmy's vanity with it…. however, this one was just a little bit wider, and her space in her closet is narrow.  So instead, I am hauling this piece over to Sweet Clover today for this weekend's sale!  I hope it finds a new home. 🙂
Sharing here:
Inspiration Monday at RefreshRestyle, Inspire Me Monday at Sand & Sisal, Work it Wednesday at The Happy Housie, The Inspiration Gallery, My Repurposed Life, Inspire Me Please, Link Party Palooza

Pin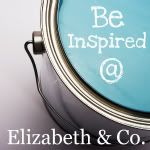 Pin
Pin

Pin