A couple weeks ago, I picked up a dresser which I painted with Miss Mustard Seed's milk paint. When I arrived to purchase it, the seller had out a desk he wanted to show me, and he also had out the table that became our playroom table. Major score that day! The desk was actually the most expensive item of the 3, but it was solid wood and had beautiful curves….
Purists, avert your eyes. Because I painted it.
I gave it two coats of Annie Sloan Chalk Paint in graphite. I can't explain why I had not yet used this color because I pretty much love it. Once it was painted, I distressed it lightly, waxed it with a clear wax, and to complete the look, I added some funky antiqued brass beetle knobs I purchased at Anthro on clearance.
Now, let's check out the chair I paired it with for this post. A loooooong time ago, I painted a set of 4 chairs aqua with DIY chalk paint in a guest post I did for Kathleen.

Pin
There were 5 of those chairs, but one was in need of a little more love and glue, so it didn't get to stay with the set. It sad in my garage, unloved, neglected, and lonely. One day it looked at me and I heard a whisper… "Please. Please let today be the day you save me." And so I finally gave the little chair love and glue. I had to clamp, glue, screw, fill, etc! I wanted to give it a fresh and fun look, so I pulled out the Henrietta ASCP and gave it a couple coats, and distressed it and again finished with a clear wax. Here is the chair now…
After I took the first pictures of the desk alone, I thought how funky it would be with this chair, so I pulled it out and took some more pictures. Doesn't the chair look so happy?
Happy Friday, all! My parents are coming to town tonight and Chris and I are going out for a date night! YAY!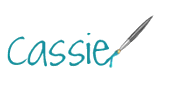 Pin