Happy President's Day! Hope you all had a wonderful weekend. I worked at the barn Saturday, and learned that while I was there, Sawyer was off and running and scored 3 baskets in his game!- so bummed I missed it!!! Yesterday I began priming trim in the hallway. Sanding and priming trim… that's how I love to spend my weekends.
So, before I get into my plans for the hallway I have some EXCITING NEWS!!!! Well, really it's only exciting for me and maybe not for you, but I am OK with that. Saturday when I was working at the barn I received a text that looked like this…..
And below said text, it read "Will you be my sister?" I let out a big shriek in the barn…. customers turned my way, and I just let them know my brother got engaged and I love this girl! Seriously, if he didn't ask her soon, I was going to ask her to marry me so she could be in our family. 🙂 So it seems this year I am blessed because I will be inheriting not one, but two amazing new sister in laws, as Chris' little brother is getting married in August. I don't yet know when Dana (my brother) and Viri will get married yet, but it may very well be this year, too. I feel so lucky…. I could not have chosen better girls to be a part of our family!
That being said, I am postponing my California trip I just announced last week since Dana and Viri live in LA, and we will have to fly our family of 4 that way instead. We told the kids last night and also let them know that whenever it does happen, we plan to stay an extra day or two to take them to Disneyland, so we are going to have an amazing time as a family- whenever it may be!
That's what has been happening in my life. Now let's talk about some really exciting news…. like painting trim! Oooooh. I mentioned last week that I had no motivation when it came to house projects lately. Because of that, I actually wrote "Paint Hallway" all across this week on my calendar. No more excuses! Aside from the kitchen which needs professional help, it's the last area of the main floor I haven't worked on. Here is what I am working with; please enjoy the poor quality iphone pictures.
And this is an old photo, but you can see the wall that faces the entry, where my navy desk sits:
My plans include….
– painting the trim white (Simple White by Benjamin Moore)
– a chalkboard wall where the front door sits
– a paint update for the front door (color to be decided)
– an update for the bifold doors (was hoping to find new doors, but just measured and they are an odd size, most likely will be painted)
– replacing the guest room and bathroom interior doors as long as we can find the correct size
– painting the hallway a shade of white, most likely cloud cover
– perhaps a stencil or wallpaper behind desk
– gallery wall of kids artwork
Here are some beautiful inspiration photos…. (these are all from my pinterest board. ) Click on the image to take you to the original source, unless otherwise noted.
This one is from Georgica Home Pond, but I could not locate the photo on the blog….

Pin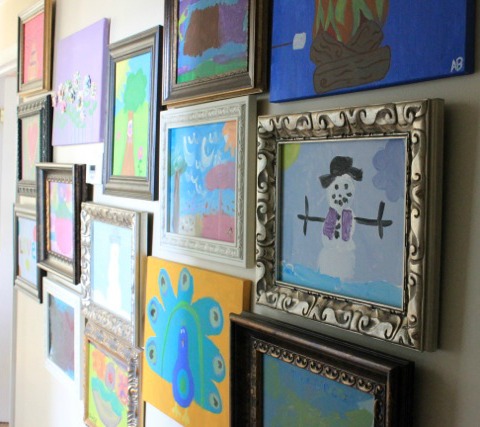 Pin
From Junk Garden Girl:

Pin
Now, for colors I am considering for the interior side of the front door. This door will be framed in white molding against the chalkboard wall.
This is one of my go-to's Wedgewood gray:
Some random colors, too…
yellow…
Green (Original Source???)

Pin
A more vibrant aqua….
Orange (From George Natale)

Pin
What would you pick? Anything not listed? Glossy white like the trim is also an option I am considering. What about black?
For the ugly closet doors, since I can't replace them, I am thinking something like this, from The Sweetest Digs, in the same color I choose for the front door.
Pin
All I know is that no matter what I do, step one is getting the trim painted. So if you need me, I'll be picking fur out of my brush as I prime and paint trim. Later.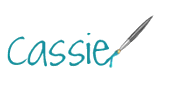 Pin