I have a few glass insulators that I wasn't sure what to do with. I have 2 aqua glass ones that are so pretty in color, but they had just been sitting there. Pinterest, I salute you. I browsed the other night looking for some simple ideas for glass insulators, and came across this fabulous idea.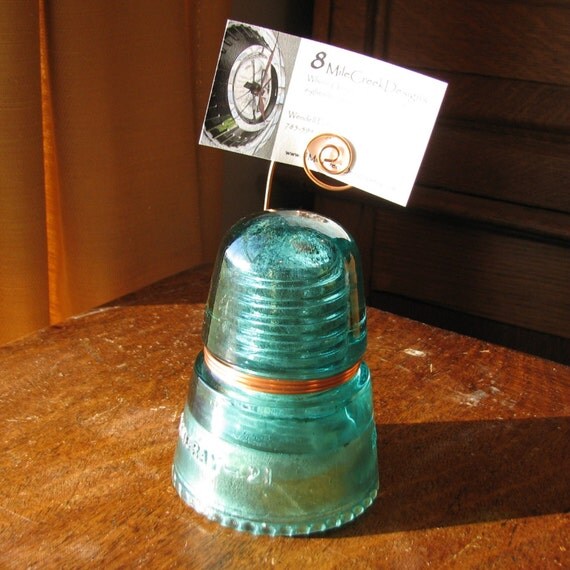 Pin
I loved the look and thought I could make some for my mom that could be used as photo or place card holders.
Today, I went to Michael's and looked for copper wire. They didn't have anything that looked strong enough but I found a roll of natural fiber wrapped wire that was super string. And I already owned a pair of wire clippers, so that was all I needed.
I wrapped the wire around the indent in each insulator and then twisted in the back with the loose end to secure. Then I just went straight up and then clipped my piece. I wrapped the end 3 times around a thick pen, slid it off, and voila, rustic photo holders! And that photo is Sawyer from 2007… Wasn't he the cutest? 🙂
There is a picture to show you the backside, where it is securely twisted.
This project took all of 5 minutes for all 3. So if you have some insulators, get to work- super easy and thrifty!
I want to say a special thank you to Deborah of Cofessions of a Craigslist Junkie because she provided me with the $50 gift card to Michael's which was used to get my wire for this project! Deborah is super sweet and talented. Here is an example of her talent! But you really need to see the inside of this chest.

Pin
Hop on over and say hello!
Also, don't forget today to link up over at Whisperwood Cottage with your holiday chalkboard paint projects!!!

Pin