Happy Monday! I hope you all had a great weekend, and many of you are probably enjoying a three day weekend! We had a crazy busy weekend at Sweet Clover (yay!). I worked yesterday and had a great time and saw tons of new customers, which was nice. Saturday I spent the day taking Emmy to the American Girl Store for her to select her birthday gifts. I hear we missed seeing the first lady as we went after lunch (Emmy had a basketball game in the morning). I am glad though- I am not one for big crowds and chaos! We spent our evening with friends playing fun games, sharing laughs, and sipping wine. All in all it was a great weekend!
Today I thought I would catch you up on instagram life lately, so here goes! And if you want to follow me you can find me at cassie8978.
Sarah, my mother in law, and I went to Ikea… I was amused by the ride on unicorn.
My mother in law made the cutest bedding for Emmy's doll bed.
I got this sweet little brass hippo on the Eastern shore!
I also spied these brass deer…. and yes, I took them home!
Chris and I enjoyed our night away from the kids- cheers!
I found this cute little wallet and loved the horseshoe!
Chris and I also got to see Hunger Games on our weekend away! We don't get out much, so when we do we act a little foolish.
I also found these cool vintage arrows at the eastern shore! They are in the guest room, reveal coming tomorrow!
Jake found a sunny spot while I was cleaning…
Ho Hey! The brass deer are right at home. Home, home on the mantle, where the brass deer and the brass antelope play!
Emmy got a special birthday donut on Friday!
Followed by cupcakes at school!
After cupcakes, I worked on this piece which will go in the day spa a friend owns. The color is "Queenstown Gray" from General Finishes. Still need to finish it, but I adore this color!
I took Emmy to the AG store. I tried to convince her we needed furniture for her dolls… since she already has Molly and Saige. I lost. Isabelle and Emmy won. How could I say no to this?
I then treated her to a birthday chocolate milk shake!
And we came home and worked on what is becoming her American Girl Nook. I can't wait to really dress it up and share!
It's so fun having both a son and a daughter! I get to do all the fun things! 🙂
In other news, you can find me over at Scout and Nimble today sharing "A Photo Every Hour" of my day! Check out how truly exciting my life is…. or isn't. 😉 And while you are there, check out one of my favorite bedroom makeovers EVER in the history of bedroom makeovers.

Pin
Have a great Monday, my friends!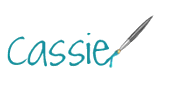 Pin