Happy Friday! Hope you have all had a good week! I have had a great week. It's been one of those weeks where the weather has been gorgeous and I feel like the sun is shining right on me, metaphorically speaking. It's just been a week full of joy! And it will be a weekend full of joy as well as we head to Family Fun Night (Mexican theme!) at the neighbors tonight, kids first soccer games of the season, town firehall breakfast, and the rodeo on Saturday with my parents, and Sunday I am picking up a MCM sideboard for my dining room after scouring craigslist for weeks! Happy happy!
Before I share with you some instagrams from the week, I wanted to let you know you can find me over at Suzy's blog, Worthing Court, today, where she is snooping around my house. 😉 Suzy has a great feature called "House Snooping" and I was asked to share my home tour with her readers. She has shared several amazing bloggers homes, so check out the whole series and pop over to see mine today!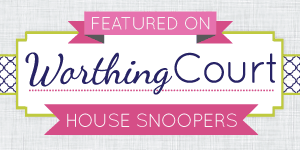 Now let's get to insta-friday, where I share all my favorite instagrams from the week with you! I am not sharing them all today though as that would give too much away. So you will just have to follow me at cassie8978 to see what I've really been up to…..
Thanks to a sweet friend, Emmy inherited a beautiful aqua canopy for her room! The one thing she had on her room's wishlist was a canopy, so I have one happy child. The aqua was just icing on the cake!
The canopy didn't work with her papier mache antlers…. DARN! I had to put them in the dining room. Oh well.
I picked up a vintage colorful rag rug for Emmy's room, and snapped a picture of it while she was doing math with Molly and Tiana.
Saturday night I put on a bandana I wore all through my pregnancy with Sawyer when I was hot and fat in Louisiana…. brought back memories! And how awesome is this necklace my friend's 10 year old daughter made for my birthday?
Jake and I headed out for a walk Sunday and you can SEE the heat and humidity that was present. And look at Jake's posittion…. we were walking up this big hill in the heat. His body language says, "Can we just turn around?"
I was happy these chippy folding chairs didn't sell so I could take them home to go with our new table!
I found this in Emmy's backpack for her teacher, Mrs. Carpenter. It had a rhinestone girl's face she created on the other side. Emmy just melts my heart with her sweetness.
But don't be fooled, she's got a tough side, too. She came down with this outfit she put together all on her own ready to hop on her Harley and go to school. She has a style all her own.
I took a nice long bike ride one morning this week and stopped to snap a picture because it's just too pretty here to keep it to myself.
If you follow me on instagram, you know what happened with this…
From an early morning walk…. the corn is turning yellow and Fall is coming!
Another scene from that walk…. I drive by this barn all the time and just love it, even if it's falling apart.
I found this tan pleather hassock at the flea a few weeks back and want to keep it! Trying to place it. Where do you think it should go?
The kids were out of school and had the neighbors' kids over…. I love this shot of girls being girls… dressed in tutus and fancy dresses eating popsicles. Life is sweet.
And that's all for this week! Have a wonderful weekend!