Yeah! It is my turn today to hose one of the 12 Days of Christmas parties! (Remember Kimbo and I swapped days since I have POWW tomorrow evening!)

I don't have my own gray holiday project per se, but you remember my dining room decked out for the holidays, and all playing off the gray and white stripes….

Here are more inspirational gray holiday images…
I love how the red bounces off the gray in this gorgeous wreath.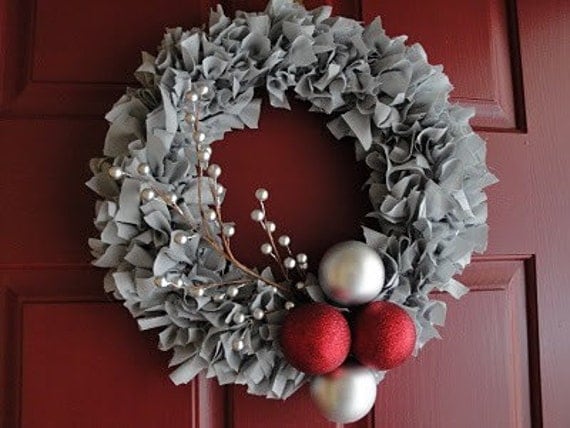 How about wrapping your gifts in gray?

And then of course there is this scene which just makes me happy….

So now it is your turn! Remember your project must be paint, holiday, and GRAY!!!!!
This party is open for 24 hours!
HOW TO ENTER:
1. Each of the 12 parties opens on the dates indicated and will end on Dec 18.
2. Link up one or more project tutorials that correspond to the color/finish for each party.
3. You may link up multiple projects to multiple parties.
4. Be sure to include the party button in each post that you link up.
RULES TO BE ELIGIBLE TO WIN:
1. Must be an original project tutorial created by you.
2. Must involve the use of paint and be holiday related.
3. Must involve the color or finish indicated for each party.
4. Must have the party button in each linked post.
PRIZES:
After all of the parties are closed on Dec. 18,
The DIY Club will post a TOP 12 finalist list on Dec. 20.
(I'll choose my finalist for the silver party and I will be featuring my Top 10 favorites!)
One winner, announced on Dec. 21, will win
2 gallons of Dutch Boy paint and 6 cans of Krylon spray paint.