I have told you all before about my amazingly talented neighbor and the work he is capable of, such as gorgeous signs, beautiful furniture construction like my headboard, and more (coming soon, another project we collaborated on!).  When I saw the previous sign he created, I placed an order for a "Dead & Breakfast" sign, and showed him the one that has floated all over the internet from Better Homes and Gardens:

Pin
I have been wanting to paint a sign like this for a LONG time!  Travis was able to cut it out for me and even carve out the lettering.  We used MDF and he carved it to have the look of planked wood.  He brought it over unfinished, and I painted it with ASCP in old white, and the painted the lettering in a black acrylic craft paint.  To antique it I used Briwax in Golden Oak.  Something in the briwax made the acrylic paint bleed, however, but I just worked with it and let it give it an even more weathered look.  For now, we just used some hooks that were already attached to our porch ceiling and hung it from them, but it hangs exactly where I wanted it.
So without further ado, here is the version that Travis created for me, and I painted….
Isn't it incredible!?!  He does amazing work and can do ANYTHING in the form of a sign.  If you would like to order one, he can even ship them as well.  If you are interested just shoot me an email and I will put you in touch.
Now, the bad news is that I had to already take the sign down… along with the ghosts, the graves, and anything else that Sandy might huff and puff and blow down off our house!  Wish us luck as we hunker down!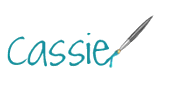 Pin
I am linking to the pinterest challenge, as I pinned this project 3 months ago, knowing one day!  I do have the huge advantage of having a neighbor no one else does…. but hopefully it will inspire nonetheless! 🙂
The Pinterest challenge can be fond on these 4 amazing blogs: