Happy Wednesday! Sorry for the crickets yesterday, but Monday, sort of spur of the moment, I bought a can of paint and got to work on a major change in my house…. A change that was not really planned. You will have to come back tomorrow to see what I did, but if you follow me on instagram you already know…. muah ha ha!
Until then you are going to have to deal with another little table makeover from the archives….. I painted this one around this time last year. It was a great little demilune and I planned to painting in Rockler's General Finishes Lamp Black milk paint (the only black paint for me!).
Here you can see I had started painting the base and realized I was running low on black paint, o I came up with Plan B. I painted the base black, and used General Finishes Antique White from Rockler to paint the top.
I distressed it lightly all over once it had two coats of black on the base and three coats of the white on the top. It needed a little something else. I thought about stripes on the top, but was not confident that I had enough black paint left. So I decided to stencil a little detail. I had recently won a giveaway from Type A Decorating and was able to choose two stencils from Maison De Stencils. I chose a peacock and a cute little "nest" stencil which I thought was perfect for this table. I placed it to the right side, and used the black. Once it dried, I lightly distressed it. To finish the table, I used General Finishes Satin Finishing wax. I love using this wax because it goes on clear and so smoothly! Anyhow, here is the final product after all….
Be sure to come back tomorrow for a big change in my home! Hopefully I will be able to take pictures of it today….. Any guesses? Those who are on instagram are not allowed to guess!!!! 😉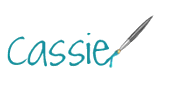 Pin
Sharing here:
Pin