I wanted to participate in the Holiday Vignette Party over at A Thoughtful Place so I am showing you a vignette I created this weekend. It's slightly embarrassing, but I am sharing anyhow…
Here is the vignette I created- sparkly, white and glittering, and a touch of mercury glass. It has some of the makings of my favorite holiday decor!
So what's the problem with it? Um, where it is…. I am keepin' it real here. The worst room of our house is the horrendous kitchen we hope to make over this coming Spring complete with its retro kitschy ugly and off kilter peninsula and puppy-chewed stools! We use this area for holiday crafting as you can see, since we don't care what happens to these countertops!
Apparently the previous owners love TV and had a place for it in every room, including this shelf they added to the kitchen…. ICK.
Oh, and yes they left us the dry erase board which the kids enjoy- Sawyer is already composing symphonies as you can see.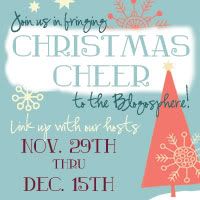 Pin