Beware, this is going to be a long and picture-filled post!
As you know, I was away this past week. Monday the kids and I spent 8 hours in the car headed for Wilbraham, Massachusetts- aka, my home town! We had plans to visit friends there (friends of mine since I was 11 years old!) and also check out some of the sites. I was greeted upon arrival with a glass of red wine…. why yes! Thank you! Welcome to Massachusetts, indeeed.
Tuesday we had plans to hit Old Sturbridge Village, which is an amazing place where you can experience history and see the way the colonials lived. I was excited for a couple of reasons…
1. Sawyer loves history and I knew he would love it. I also knew Emmy would gain more of an appreciation.
2. Lisa from Shine Your Light had agreed to meet me there and I couldn't wait to meet her in person!
Lisa came with her son Sean and his friend, and they were such well behaved boys and were SO good with Sawyer. Sawyer definitely felt like one of the older cool kids. Actually, after we left he asked me if we could see the boys again. And when I said we should come back with Daddy, he suggested we meet up with them again as well. And Lisa…. well, if you read her blog, maybe you already know what I am about to tell you… She is sweet, down to earth, and beautiful! She was better than I ever could have imagined and I am so blessed to know her in real life now. Here we are:
Now time for some photo overload from Old Sturbridge Village….
I thought the gravestones were so neat!
Hello period wallpaper and aqua!
My Emerson standing in the doorway of a house once owned by Emerson Bixby
My kiddos in some souvenir hats…. I couldn't help myself!
All the kiddos! Sawyer's face in this one cracks me up!
It was a great day- perfect weather, a fun learning experience, and spent with friends. Oh, and we ended the day by showing the kids the house I grew up in! 🙂 That was a blast from the past and thankfully the house still looks lovely after all the hard work my parents poured into their fixer upper!
Wednesday, Sandie and I took the kids to the Springfield Museums to see the Lego Castle exhibit at the science museum as well as the Dr. Seuss sculptural gardens….
The Cat in the Hat and Seuss himself!
The sculptural garden was small, but it was amazing! The kids just loved it, and I did, too! Seuss was one of the most creative, imaginative writers, and he always had a message for our children and cared deeply about the world.
'Unless someone like you cares a whole awful lot, Nothing is
going to get better. It's not.'
That is one of my all time favorite of his Seussisms. The man was a genius who related to children better than anyone and taught them to care for themselves, their planet, and reach for their dreams, and be true to themselves in doing so. I am so grateful for all of his books and for the lessons they have taught my children.
Anyhow, that was my trip to Massachusetts in a billion pictures or less. Now let's check out the POWW faves!
How amazing is this red cabinet from Petticoat Junktion? I am in love! It looks like it was always supposed to be like this….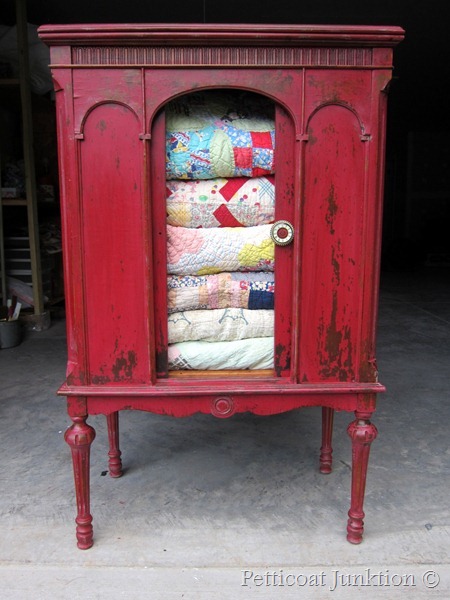 Pin
Blue Roof Cabin shared this adorable rustic coral desk- love it and its stool!

Pin
Tisha from The Delectable Home shared this gorgeous bathroom vanity makeover! Loving its new modern look!
I am having some settee envy over this piece from The Blissful Bee…. LOVE!

Pin
The Shabby Gals shared this happy pop of yellow! Doesn't it make you, well… happy?
I'm Busy Procrastinating shared this cute redo…. I love how something as simple as removing doors and adding fresh paint can totally change a piece!

Pin
Alright, folks! That's all I have for you! Have a wonderful weekend!

Pin