I am so excited to be back today as part of Stephanie of Casa Watkins "My Home Style Blog Hop."  Between today and tomorrow, 11 bloggers will be sharing how we mix, match, coordinate to create individual style. (You can start the hop at Casa Watkins).  Personally, I honestly don't like applying descriptive words to my style because it just is what it is, but I know they are necessary to convey the look.  In my home, I do what I love, and I don't discriminate against any styles,  but there are certainly some that I tend to gravitate towards and use more than others.  I've put together a collage for you today to demonstrate my style mix, and how I put it all together to create my own cohesive look. Below the graphic I am going break into each style element and show you how I use that particular style in creating my own look. (There are affiliate links in the graphic if you scroll over and want to shop my style.)
You may recognize some of the items in my collage as representing my master bedroom. That room in our home is my absolute favorite and seems to demonstrate my style mix well. Aside from the mix of styles, this room also represents my color scheme throughout our home well: neutrals, blues, and a touch of black. If you're new to my blog and home, here's a look at that space.
Pin
Now let me break it down into how I use each individual style element.
PinMidcentury: My favorite way to use midcentury style is in larger pieces of furniture.  I love the clean and modern lines as well as the lower profile they tend to have.  Their shapes seem to lend to an organic vibe that speaks to me.  When decorating in my home, I try to make sure each space has at least one midcentury item in it to give it some edge and simplicity.  In my own bedroom, I've got white and gold midcentury nightstands, a couple of midcentury dressers (similar here), and a tulip chair.
Vintage: Technically, midcentury could fall under this category, but I think midcentury is so strongly defined on its own.  I am using vintage here to describe the more rustic, distressed items I like to use to add a more casual and collected feel.  In my bedroom, I've used several found items that I have gathered along the way from yard sales, thrift shops, and more.  My industrial folding bench (similar here), my accordion wall rack, bentwoods (one sits at my bedroom desk; these are similar) have all been found in one place or another, and purchased because something about each drew me in.
Pin
Global: With the way the world connects these days, global has really emerged as a huge style.  Home stores are able to import unique textiles, furnishings, and small decor items from all over the world.  As you can see above, I prefer to use global style in my textiles.  My blanket, pillows, and area rug are all from other parts of the world (or at least inspired by that).  We got our Moroccan rug (similar here) a few years ago, and I just love its versatility as well as comfort.  The striped tassel blanket was a newer addition earlier this year.  We purchased it after living with a wool blanket for a while that was just too itchy; this one is cotton, yet keeps us warm with its tight weave.  My touch of blue comes in through my global textiles here as well as seen in the mudcloth headboard (mudcloth purchased from this shop I love!), indigo lumbar pillow (similar here), and the block print pillows I made (similar here).  I also brought in global style with a gorgeous woven African basket that I found at a yard sale.  The gentleman had purchased it while stationed there.  It's similar to this one, and makes a stylish hamper for us. 🙂
Earthy: In my opinion, natural elements breathe life into a space.  Plants are the best way to immediately make a space come alive!  My snake plant in my bedroom is one of the easiest to care for and makes a great impact.  Other "earthy" items I like to use are natural woods, crystals or rocks, antlers, fresh florals and branches clipped from the yard.  In my bedroom, a rose quartz sits on my nightstand, natural raw wood vases rest on a dresser, and a painted real antler mount serves as necklace organization. (If you're not into real, here's a great faux representation).
Eclectic: Eclectic by definition is "selecting what appears to be best in various doctrines, methods, or styles."  Truly, I could just throw the word "eclectic" on my style and call it a day, but I prefer to use it to describe the whimsical and quirky elements that are really only seen in rooms described as such. These pieces allow one to show personality in a space.  In my master bedroom, we've hung a little whimsical dreamcatcher above our bed, and some of the other decor items, like our jackalope mount, also bring in that fun vibe and let people know we don't take ourselves too seriously here.
Pin
Personal: I believe that spaces should have pieces that are special and meaningful to the people who live there.  Typically in our home, I like to bring in the personal elements with the artwork. In our living room, we've got several pieces my kids have created in art class, as well as a gallery of their art in the hallway.  In our bedroom, almost all of the art is in the form of family photos, or a painting made from our photo.  Above each nightstand, I've hung special family photos framed with Framebridge's burlwood frames.
And there you have it… my style is completely mixed and matched midcentury vintage global earthy eclectic personal… and that is a HUGE mouth full!  Maybe that's why I don't like to describe it… there is not just one word.  My style is simply "Cassie style."
Now, one could easily look at that list of styles and wonder how on earth it could all work together.  The key is to choose a cohesive palette, and create a balance.  Don't lean to strongly one way or another.
Pin
Of course, I don't believe that there are truly rules to making it work.  The best advice I can offer you in creating your signature style is to figure out what style words describe what you love, and then play with elements belonging to those genres.  Work on balancing them in your own way to design a space that is utterly and uniquely you!  If you want to tale a look at how my style has evolved, you can check out my previous My Home Style post here.
Now head on over to the other blogs participating: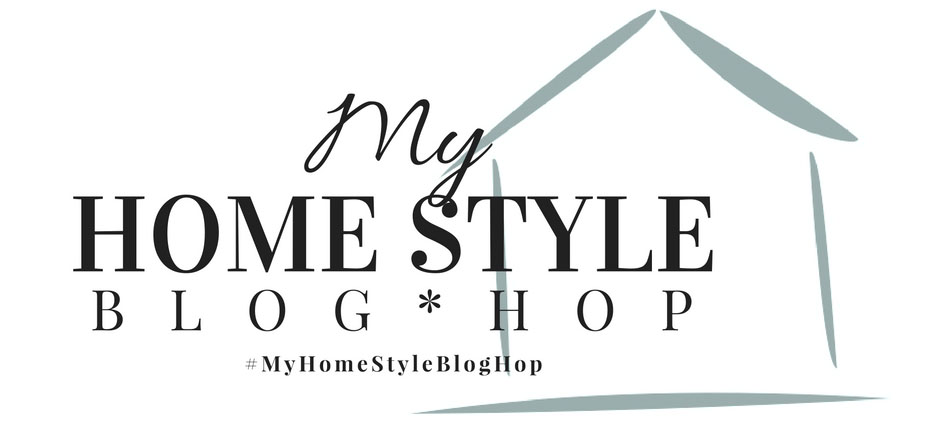 Pin
Wednesday Home Styles
Thursday Home Styles
Pin