What a happy happy and beautiful weekend! Chris and I headed to North Carolina Saturday morning to head to the wedding of one of my very best friends from college. We got the the hotel and showered and got ready and headed off. Here I am in the car on the way…. can you tell I was excited?!?! I had not seen the bride since my own wedding almost 9 years ago, so I was so excited to see her finally!
I made it through the ceremony holding back my tears, but as soon as I saw her and was able to talk to her I started crying. I am just so overwhelmed with happiness and love for her. If you knew this girl, you would understand. Some of you remember the story I told of what happened to me in college. This girl is THE girl that stuck with me through everything. She was always there for me, to listen, and to encourage. She always made me feel special and she gave me courage to start being social again, and always included me in her plans, which at the time, was a big deal to me. Because of her, I also became friends with her friends, so it was a joy to reunite with some of them this past weekend as well.
Most of all, it was a pleasure to meet her new husband, and Kimberly's new stepdaughters, who are sweet and gorgeous. They are talented, too! They sand Bless the Broken Road to Kimberly and their daddy…. I don't think there were too many dry eyes in the house! I don't know how to explain how I felt, but seeing my friend so in love, so happy….. it was amazing. I wish them a lifetime of wedded bliss. I did not take any pictures (I think I was too busy eating cake and drinking wine!), but here is the one shot I took of the happy couple.
And just for laughs, here is an awesome picture of me and the bride, circa 1998…. I am pretty sure we were dressed to "go out". I was super stylish with my red shirt and black paints and hair parted too far over to the side….. And look at those young faces….
Sunday, before Chris and I headed back home, we had a double date for breakfast with the fabulous Rene of Cottage and Vine, and her husband, Rick. Rene is even more beautiful in person, and SO sweet! We had a wonderful time, just hanging out, talking about life, our kids, sports, cheese, and all sorts of things! Here we are outside of Tex and Shirley's where we ate (YUMMY!).
It was a truly happy weekend!
Today you can find me at Home for Hire, filling in for Nicole while she is away! Pop over and see me because I am sharing a never before seen makeover. Remember this guy? Well, he got a makeover, and I think is more of a she now.

Pin
Also, guess what I found!!!!! I had been looking all over (ok, and by all over I mean strictly in thrift shops and yard sales, because let's face it, i don't shop retail) and found this little guy at a yard sale. FOR FREE.
Ok, so admittedly, you can see why he was free. But guess what? He got a makeover and is now a much happier cuter gnome and his paint will last outside! Head on over to the DIY Club to see
Sharing here: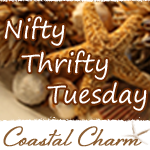 Pin