Happy Memorial Day!  First of all, I want to say thank you to all of the heroes, fallen and living, who protect and have protected our liberties, day in and day out.  I went for my walk yesterday morning with Jake, and saw so many people raising high their American flags, and I couldn't help feel proud to live here.  I did nothing to deserve it, but I, like many of you, was born lucky, because I was born in the USA.  And I feel fortunate that my children were born and will be raised in our great country.
Speaking of our country, well, we all are entitled to life, liberty, and the pursuit of happiness, right?  Well, check out my new tagline, "life, paint, and the pursuit of happiness."  That about sums it up, right?  I FINALLY have a tagline, because I needed something awesome to complement my FABULOUS BLOG MAKEOVER!!!!!!!  Seriously, I am in love with the new look!!!!!!!  The amazing and talented Gwen from The Bold Abode has recently started her new business and I couldn't get in line fast enough for my blog to get a makeover!  It was time.  Gwen, aka This Bold Girl, was amazing to work with and helped me figure out what I wanted.  She worked with me on colors, design, new buttons, new social media icons…. she thought of all the things I don't.  She reminded me I needed an awesome tagline.  And in that process we had some laughs, too, as she suggested such taglines as "paint all ovah my body!"  And I suggested we create a symbol for the blog and rename it "The Blog Formerly Known As Primitive And Proper".  He he.  We had a blast, and in the process she created this bold, beautiful, clean blog for me!  I cannot thank her enough!
So yesterday, Chris and I worked out in the yard a bit and I wanted to share some updates on our garden. Last week I scored this awesome industrial sewing bin at Lucketts (Thanks to Ali for pointing it out to me!) that I planned to use as a mini veggie garden.  For Mother's day my parents gave me a HomeDepot gift card and as luck would have it they were having a veggie plant sale this weekend!  I picked up some plants as well as some organic potting soil, and Chris and I went to work.  We had to plant a couple of veggie plants in the garden as well, because I had a few too many.  Oops.
Here is our veggie planter.  Chris and I drilled holes into the bottom for drainage before filling it with soil.  I think I am going to paint something on it…. like, I dunno, maybe "veggies".
Next to it, there is a bucket I poked some drainage holes in planted some tomato plants also from my parents.  The shovel says "herb garden" and my mom made that a few years back.  The shovel faces where we planted our herbs, naturally!
Here are most of our herbs, as well as well as a broccoli plant Sawyer got from Ag day at school, and a few annuals.  Emmy got a stepping stone kit for her birthday, too, so that stone sits there as well as our happy turtle prince.
My mom and the kids made these adorable garden markers for me as well for Mother's Day.  My mom made them from clay and the kids painted them.
I love this one…
Our peonies are done blooming, sadly, but we now have these gorgeous lilies and the roses that Emmy and I planted are blooming!
Here is a shot with the double knockout- oh how I love those!  And the metal flower I found at a yard sale for $3 a few years back.  I love it!
Here is a little overview…. And you may notice a little hat poking up in the background…. you will see who is wearing that hat next monday!
Chris was being a goof and practicing his modeling skills in the background.  No wonder we get along… we are both overgrown kids.
I am not what I would call an avid gardener, but I do enjoy getting outside and getting a little dirt in my nails. 🙂
Happy Memorial Day, everyone!  Hope that whatever you do today, you have fun!
I am sharing here: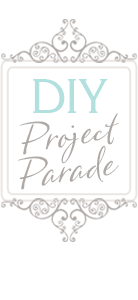 Pin
Pin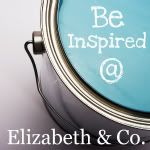 Pin