My friend Lisa at Shine Your Light is hosting a new party! Each month you will link up your "before" images of pretty much anything you want to work on. At the end of the month, you link up your hopefully completed project! 🙂
I am joining the party this month with a table I am going to redo for Emmy's room. It's her little "tea table" as I call it, where she and her friends can have tea parties. Here is what it looks like now (this photo was taken the week we moved in- it's the round brown-blah-in-need-of-love table you see on the right)

Pin
So head over to Lisa's to link up your own before!
Now let's get to POWW faves! You people really know how to start the year out with a bang! I think we are all refreshed creatively, and excited for the new year and new start.
Oh how I love this glossy peacock blue dresser from Decor Adventures. Everything about it makes me feel tingly all over.
This playful set from Double Take Decor would make any child happy. And me. It makes me happy, too.
This sideboard from Fabulously Flawed has me seeing green!
I have to admit I don't love al the bed to bench makeovers out there… I just want my benches to look like benches. I know that is weird, but that's just me. This bed-to-bench transformation from The Hollie Rogue blows me away though. So warm and rustic- I love it! Ok, well I can't seem to click on her pictures, but go see it- I promise it is worth it! Hollie, if you read this, email me a picture of it!
Jacqueline from Simple Home Life made a mistake with her stencil, but worked it all out in her favor and recovered it with an awesome stripe! I love these!
And finally, I am a fan of pretty much everything Allison from Fab Rehab does, but I think she picked the most winning color combination for this cabinet. it's sleek, vintage, yet modern, and I love it.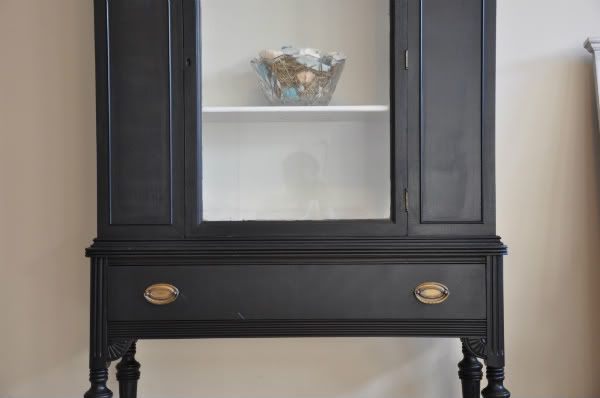 I am headed to IKEA this morning for some playroom organization. And then I plan to work on the aforementioned table. Have a wonderful weekend!!!