We had a great weekend with Chris' younger brother Travis here. He was a huge help in getting up our outside lights as well cutting down our tree! And Pam, because you read this blog, this picture of your two boys is for you… love you!
We walked the entire lot in search of the right tree… I wanted to let the kids pick it, but Chris wanted "the perfect tree".
Everyone had a hand in the cutting…
We took it home, set it up, and let it settle before we decorated it. I added white lights and aqua beads first, and then let the kids have add it. After they finished all their home made and special ornaments, I filled in the holes with vintage balls. And here it is!
If you look closely, you can see I was listening to Christmas music. 🙂
This tree is loaded with memories such as this ornament Emmy made when she was 2.
And this garden gnome my mom gave Sawyer to remember when they watched Gnomeo & Juliet.
And here is my white glittery star…. I searched one year for the perfect star, and I am so happy with this one
And lit up in its glory!
I have even added presents under the tree since this photo was taken! I can't wait to give them out- I love giving presents!

Also, please remember to head over to The DIY Showoff today to link up your mirrored and glass holiday projects!
Sharing here: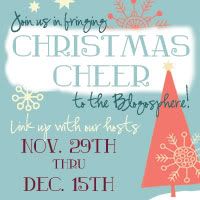 Pin