Knock Knock.
Who's there?
Orange.
Orange who?
Orange you glad we chose "carrot stick?"
Emmy has a sweet friend Taylor. Taylor is 4 like Emmy, and has a 2 year old sister, Kendall. Their mother Cristi, who is a dear friend of mine, decided to let her girls share a room now that they are old enough. She painted the walls a very soft pink, and found some adorable upholstered headboards at Overstock.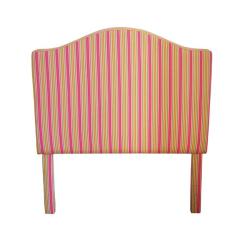 She then scored an adorable antique dresser at an estate sale in town for $40 and recruited me to paint it. We looked at the Benjamin Moore fan deck and pondered colors, at first sticking to yellows and greens as the headboard is pink, yellow, and green. We thought yellow seemed a bit nursery, and the green we liked maybe a bit old for the girls. I thought orange would look super as the pink and yellow in the headboard kind of run together visually to appear orange. But with Emmy's room being those colors, I didn't want to suggest it straightaway as I did't want Cristi to think I was telling her to do what I did! Luckily, I could see the wheels turning in her head and waited…. and she said, "I'm kinda seeing orange….. what do you think?" "YES!" I screamed! We pulled out the oranges and found "carrot stick" which was perfect. Cristi wanted a fresh and modern look for it, so we chose a high gloss enamel. I used a tinted primer (3 coats) and then 3 coats of paint. I added some white rose knobs I had on hand as Cristi hadn't found any knobs she loved yet. She is taking it home with the rose knobs to see if she loves it like that. She loves the dresser but just needs to see about the knobs. Anyhow, here is a somewhat before ( I realized partway through priming I didn't have a before!)
And here it is now!
Cristi picked it up this evening and was thrilled! She has promised to send me a picture of the dresser between the headboards, where it will reside!
With Chris and the kids gone, I completed this dresser, two others, and another DIY Club project I will share tomorrow! It's amazing what you can do when you have time alone in your house. And the house stays cleaned up- that is the real treat!
Sharing here: