Happy Memorial Day weekend! Yesterday, Ali headed back home. To stop my heart from breaking, I spent the day crafting and relaxing. We were all quite tired. Chris had taken Sawyer to see The Avengers and they had returned home late Friday night. Emmy had gone to her very first sleepover birthday party at the neighbor's and had stayed up late… it was a good day to just hang out and do crafts. I also worked out in the garden before it got too hot! I still need to take photos of what I worked on, but for now I have something to share with you that I almost forgot about!
I realized that I had not yet shared the terrarium my kids and I created! It was on our summer to do list. Nope, it's not yet summer, but I found a fabulous antique terrarium at a yard sale, so I we couldn't wait!
Here is the terrarium alone…. isn't it cool?
Just check out the paint!
Emmy and I had found a couple of these frogs as well at a yard sale, and had saved them for when we did the terrarium.
I also added one of my clay toadstools and a couple of ladybugs (which Emmy placed)
Behind the toadstool you can see Emmy's frog. I love how she put him in there…. he looks like he has eaten too much. If you know my daughter, it's appropriate!
Sawyer placed his frog on the other side….
And here is where it sits in our dining room window…
And there you have it! Our terrarium.
I hope you all enjoy your holiday weekend! We are having some new friends over for a cookout tonight; and tomorrow, Sarah and I will start setting up our space at the barn! SO excited!!!
Oh and I hope you stop by tomorrow… I will have a makeover you won't want to miss!
Sharing: >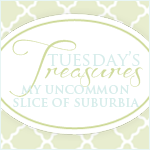 Pin