I am just going to start this party by saying, it's my party and I'll cry if I want to. Today has just been a down day for me- I am overwhelmed, stressed out, packing, the house is a mess. Oh, and I am planning Sawyer's birthday party for Friday. And Heather was supposed to find out today if there was a match for Cora, but when she got there she was told she had to wait two more days. So keep on praying as hard as you can. And today happens to be my 33rd birthday, and I was really wishing that there would be a match and we would know today. I know that prayers are always answered, just not always when we want them to be.
Enough of my pity party though, and let's get to the furniture party. That's way more fun! And did you really think I would leave you high and dry with no projects? I keep some up my sleeves for the moments when I can't work so I won't totally leave you hanging! I helped Sarah find a dresser a while back for her nursery. We had searched high and low, and finally I found this one at the Salvation Army.
She had wanted something simple and cottagey, and this one fit the bill, and was the right size to serve as a changing table. We coordinated via email so she sent me a picture of the rug and let me choose the blue, telling me she trusted me completely. (No pressure, right?) I chose Spectra Blue from Benjamin Moore. Sarah was amazed at how well the color coordinated with the rug! I was pretty happy with the result, too! Here it is in place in the nursery.
So what have you been working on? I need some bright happy and inspirational projects today people- cheer me up!!!! But please follow the rules; you don't want to cross me today, either! 😉
1. Must be a follower.
2. Must link back by using my button or a text link.
3. Must be a furniture project.
4. Must be NEW to POWW, meaning never before linked to one of my parties.
5. No Etsy shops.
6. Leave some comment love!
Let's get this party started!
Sharing here:

Pin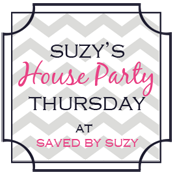 Pin
Pin
Pin