Well, our house has been the FUNhouse this past week! Sawyer seemed to be recuperating OK from his surgery Friday, but today has taken a toll for the worse and is not feeling well. As I was holding him to comfort him, he threw up all over himself and me. I am not one of those parents who showers with my kids regularly- I have no problem with it at all, but I just don't do it. Well, today he and I took a shower together and all he wanted was for me to hold him and stand in the water- he didn't want to get out. My heart was just breaking for him. I have called the doctor and am waiting for them to call me back- I am very worried that he may have gotten what Emmy had. Speaking of Emmy, shedidn't go to school yesterday as she threw up again on Sunday. The puking is done, so we said "Goodbye Pukey Mc Pukeypants, Hello Crappy McCrapHerPants." Yup. It appears to have moved to the lower extremities… Today, she is finally OK and eating and making up for lost time with 3 waffles for breakfast! Keep Sawyer in your thoughts and prayers- I have never seen him so down or feeling so terrible.
Anyhow, this weekend while the kids were down and out and Chris was able to be with them a but, I worked on some bookcases for our living room. I wanted a pair of matching bookcases that had plenty of height and storage and found this pair on craigslist for $80. They are not the best or prettiest, but they suited our needs and price range!
They each had 4 shelves, so let's just say they were a big ol' pain in the butt to paint but I am thrilled with the outcome.
I contemplated the gray of the fireplace but decided it was too heavy and dark for the look I wanted…. I wanted the fireplace to be the only place int hat room with a heavier color. So I chose the platinum gray of the dining room stripes. (Clearly working on a budget and wanting to use a color I had on hand!) I knew I wanted a pop of color on the backing though, so I thought and thought about that and then eventually decided on an orange because I loved the way color my little gourds brought to the living room.. I purchased a quart of Behr Premium in "Summer Heat" in an Eggshell finish and applied three coats. I also changed the knobs to cute sparkly knobs I purchased a long time ago on clearance from Anthropologie. And here they are now, in the room! I will be styling them some time next week after giving the paint time to cure.
I am thrilled with how they look and can't wait to put our books and of course some pretties on the shelves, too!
What have you been working on? remember it must be a furniture project!
RULES:
1. Furniture only- no crafts.
2. Must be a follower to party here.
3. Must add my button or a text link to your post or sidebar.
4. No Etsy shops.
5. No repeats projects- it must be new to the party!
And leave others some comment love!!! Have fun!
Sharing here: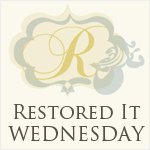 Pin
Pin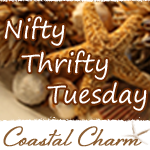 Pin
Pin
Pin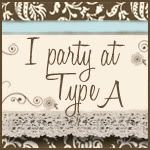 Pin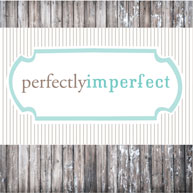 Pin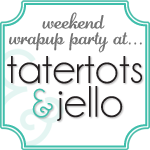 Pin
Pin
Pin
Pin

Pin