Happy POWW! I have a fun little piece to share with you today, that was inspired by one of your links! But before I get to that I want to tell you a little feel good story!
Last night, Emmy had dance class. it was so foggy and visibility was very low… a bad night for driving. I actually passed the dance studio because it is in a house and I could barely see the house from the road. I had both kids with me, and Chris was working late and planned to be home after midnight. We headed into class and Sawyer and I sat and watched while Emmy did her "Lyrical" class and then her "Acro" class. An hour later we headed back to the car, and I saw I had left my fog lights on. D'oh! We had been the last ones to leave the class as Emmy was slow to get her boots on, so no one else was left in the parking lot. There were still cars there though from the class that started after ours. I got the kids buckled up, sat down in the drivers seat, turned the ignition… and nothing. Deader than dead. I told the kids to wait a minute (this house is out in the country, it's not a huge shopping center, so don't worry!) and I ran inside to ask any of the parents of the next class if they might be able to give me a jump start. One of the dads volunteered to help me and another lady. She pulled up her car to mine, we hooked up the cables, and nothing happened still- even after several tries. At this point, I was starting to wonder how we'd get home, but tried not to panic. The dad offered to give us a ride home even though it was completely out of his way. I told him I would try calling my neighbors and let him know if that failed. I called them, but there was no answer. We just moved here in October, so my list of possible people to call in an emergency is still rather short! I ran back in and asked if he wouldn't mind giving us a ride home.
I put the carseats in his car, and we headed to my house. He drove in an area he wasn't familiar with through horrible fog to get us home. On the way home, I asked him about his family and made friendly conversation. He told me that their daughter was 10 years old and had been adopted from birth. He and his wife met later in life and married and tried to have children. She miscarried 3 times, and they of course were heartbroken. They both were school teachers, and she was a special ed teacher. One of her students became pregnant, and the opportunity for them to adopt the baby from birth arose. They were thrilled and so in love. It turns out that the wife's student since then has had 8 more babies. Last year the student's mother called these wonderful people and told them there was an opportunity for a baby boy. They were elated… their 9 year old daughter was thrilled at the thought of having a baby brother. They had already gotten rid of all their baby things because they were sure that they would have just the daughter. So they had to purchase all new items, set up a nursery, but it was worth it. Their family was on cloud 9. They were in the room when the baby was born, and when their hearts were broken by the birth father, who would not sign the adoption papers. All the planning, shopping, dreaming had led to this moment of heartbreak. They spent the summer in funk, and very sad. They have since recovered and don't feel that vid they did at first.
Why am I telling you this story? I don't really know. I just wanted to share it because I feel like sometimes people come into your lives at different times, and it can be very brief, but they touch you. And this gentleman and his story just got to me. The kindness of strangers is sometimes the best gift we can receive, and paying it forward is the best gift we can give.
Ok, and now to the furniture and party! A couple of months ago, my furniture-revampin' friend Ann Marie at Twice Lovely shared this amazing herringbone desk, that was so amazing that it was featured all over the blogworld, and even on design sponge! Get outta here! For real! Check it out so you can see its awesomeness for yourself…

Pin
Ah, yes, it still makes my heart skip a beat! LOVE it.
Well recently I found a sad little mid century table at Goodwill for $5. It wasn't so sad really, but it had a hard laminate top…. YUCK. And I can't seem to find my before picture… um…. oops. So imagine it was a warm maple color and the top was fake hard warm maple…. Can you picture it?
I gave it a good sanding, primed it, and painted it with two coats of Dutch Boy's Lake Champlain, the color I used on my sideboard. After it was dry, I wanted to add some sort of detail to it to give it a little "oomph". I knew Ann Marie's treatment was perfect for this so I whipped out a paint pen and got to work drawing a herringbone pattern on the drawer. Here it is now! I like its fun mod look!
So what have you worked on this week? I am looking forward to another week of the best links on the block!
RULES:
1. Must be a follower to party here.
2. Must be a complete FURNITURE redo or new build…. NO crafts!
3. Must place my button or a text link in your post or sidebar.
4. Must be a NEW LINK HERE. If I have seen at at my party before, I don't want to see it again.
5. Leave others some comment lovin'!
Sharing here:

Pin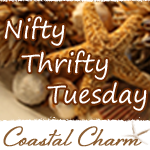 Pin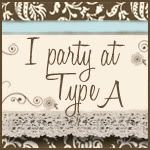 Pin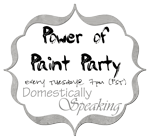 Pin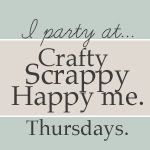 Pin
Pin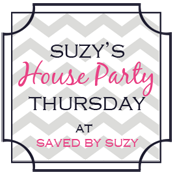 Pin
Pin
Pin
Pin