It was very rainy this morning, and we were under a tornado warning. The rain has cleared now, but I enjoyed a cozy morning sipping coffee, jamming to Christmas tunes (yes, you can jam to Silent Night!), and working on an Advent Tree copied completely from inspired by Cassie at Hi Sugarplum!. Look at her Advent tree- isn't is so pretty and clever?


I bought all my supplies yesterday, and collected some holly branches from the tree spoutlets growing under our huge holly tree. They had the perfect shape and were green in color. I used my large chlakboard urn to place the branches in. Today I headed to the Dollar Tree and got lots of little treats to place inside my paper cones. When I returned I got to work making the paper cones. I used 12″ scrapbook paper and cut it into 4 triangles, by cutting diagnolly from corner to corner, like Cassie shows here…


When it came time to make the cones, I was lost. I kept reading and rereading the directions but it wasn't clicking with me. (Cassie, you are not alone in your blonde moment here- and I am not even blonde!) I finally just googled it and found these directions. Maybe their simple black and white pictures are what helped me, I don't know.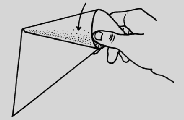 But it finally clicked! I set to work making my 25 cones, and I used a hot glue gun to seal them all, rather than using tape. Once all the cones were made, I used a circular craft punch and white cardstoc to cut out 25 white circles. I used number stamps to add the date to each circle. Then I used a seam-ripper to poke a hole into the back of each cone, and into the top of each numbered circle. I used ornament hooks to weave through the holes, attaching the date to the cone. I then filled the cones and hung on my holly branches. I did buy my kids some candy, but I knew Jake, our white wonder of a dog, would find it and eat it, so as Cassie suggested to me, I wrote a note on a piece of paper for the cones on the days they get candy. I am really excited for my kids to come home and see the Advent tree and get their first treat today, December 1.
And thank you so much to Cassie at Hi Sugarplum! for the wonderful idea! My cones don't look half as good as yours, but I am sure my kids will enjoy it anyhow!
Sharing here: