Happy Friday! Hope you all enjoyed Mereith's awesome guest post. It was great to have a guest this morning since I have had a rather busy day with the Luckett's Spring Antique Market upon us tomorrow! I woke at 5 am and hit the gym with a pal for an intense workout… that always helps me start my day right and relieve some of the stress and nerves I am feeling! Chris and I got Sawyer off on the bus (Emmy was already at my parent's house since she finished shool Wednesday) and then picked up our 16′ truck. We packed it half full here, and then drove to Emily's house, and finished filling it up! We drove it all out to Luckett's and put it in our space, covered for now in case of rain. Tomorrow Emily and I will be there pretty-fying it and ready for the day! I am so excited…. beautiful weather, friends, and great finds! What could be better!
.
Today the lovely and talented Molly stopped by to say hello. Have you guys been to her blog yet? If not, you will be blown away by her talent and her sweetness. Down to earth, kind hearted, and a true artist… See for yourself!


What did I tell you? Talent and grace.
Tomorrow night I will hopefull have some time to get you guys some pictures from Lucketts!
For now, you will just have to drool over my POWW faves! And I should mention, that besides my picks, there were a few ornate French pieces this week unlike any I have ever seen! Check them out at European Paint Finishes, Twice Lovely, Villa Barnes, and Stories of a House. All gorgeous French pieces you must see!
Now onto some other must-sees!
I love these nightstands from The Upcycle Furniture Company. The legs are so long and sleek and sexy… much unlike my own butcherblock style legs. 😉 And of course I love the color!


I love these stools from Red Hen Home. We are hoping to redo our own kitchen next year, and I would love some stools like this- they are just the style I am going for!


This table from Curly Willow DIYis stunning! I love the fun color, and love the staging with the blue accents. It makes me smile.


And this gorgeous French bench from Wool & Flax and other beeswax is also a knockout! Again, those gorgeous legs! Lori did a fabulous job reupholstering and saving this one!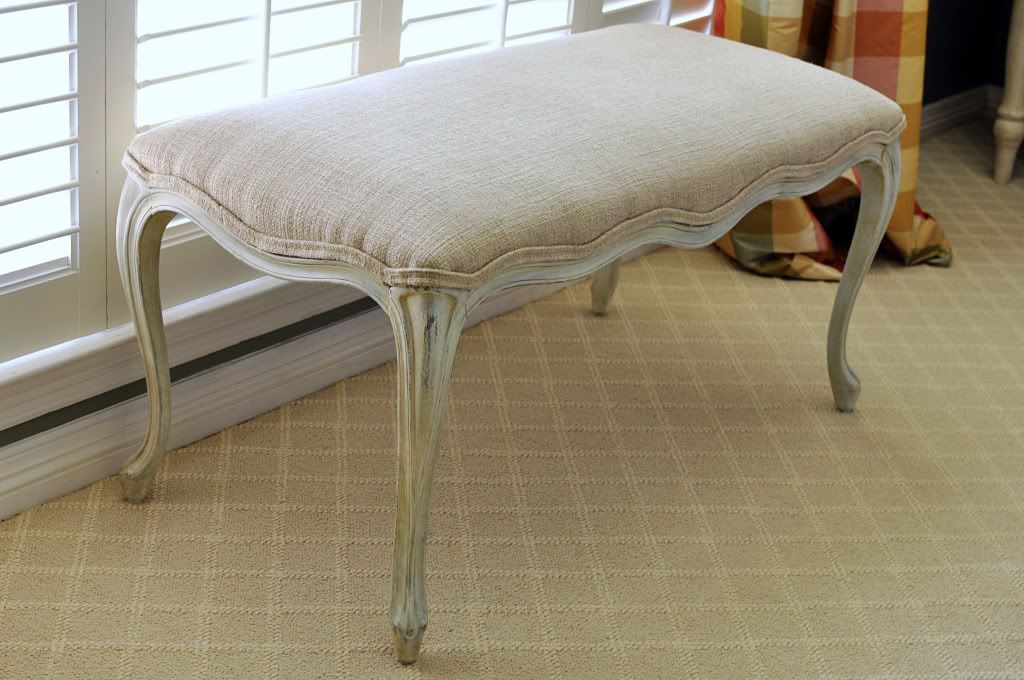 Well, I am going to spend the rest of the night relaxing, sipping wine, and trying to calm my excitement about tomorrow! It is going to be a fabulous day- I can feel it!
Whatever you do this weekend, make sure you have fun! And if the weather is nice, get outside- it's good for the soul.