First of all, this is tour last day to enter the Scentsy giveaway!
This morning, I am headed off to some yard sales before soccer, then off to a birthday party! Let me share with you what Emmy and I found last week in our yard sale travels. We found lots of small items, but the best find was a chair. Now, it is not a typical purchase for me, but let me give you a little background.
When we were kids, my brother had this little brown pleather rocker. It was like a mini old man chair. My parents still have it and the kids LOVE to sit in it when they visit. Emmy especially loves to sit in it with the afghan we used as kids on her lap, and rock as she watches movies, sometimes Shirley Temple movies because classics just suit the chair. Well, we found our own at a yard sale for $5 and I knew we had to take it home for the kids. They often argue over who gets to sit on one couch, so I figured it would give them another option for seating. You ready? Here it is in all its retro glory!
Did I mention it had aqua pleather? Oh yeah, baby. And you know what, the kids LOVE it already.
Oh, and some of you wanted to see my haircut… it is nothing earth shattering, but I am trying to grow it out. I go back next week to darken it, too. 🙂 And pardon my no makeup look- when it is hot, no thanks!
And here is a similar picture I sent to Chris the other day with our free gift with tractor purchase… That riding mower is totally worth it now that I have a cool hat.
So let's check out the POWW faves, shall we?
JS Chronicles shared this fabulous armoire makeover! LOVE the colors! I had a fun look around her blog and am a new follower after loving what I saw!
Denise from Pink Postcard shared another awesome green project… love the gold details!

Pin
Karen from Redoux showed off this sewing table redo- she created a new planked top that I adore!

Pin
Mel from Junkin Junky scored some awesome pagoda bamboo shelving units! They look awesome in their new white coat!

Pin
Chrissie from Chrissie's Collections linked up a punchy pink dresser! So fun!

Pin
Fiona from Lilyfield Life shared this gorgeous vanity! It's hard to find pieces shaped like this in the US, and I am a little green over here!

Pin
That's all I have for you! Happy weekend! Happy Cinco De Mayo! Happy Derby! Sharing my glider here: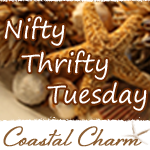 Pin