If you haven't already, don't forget to link your furniture projects up to my party (the next post down!). It ends tonight at 9 PM EST.
My client, Jessica, that I recently did a couple dressers for, also had a spinet desk she wanted painted. She wanted it in a flat black, lightly distressed, and the interior in a cool gray or gray/blue. The desk also had some loose and missing veneer along the bottom of the front that needed to be repaired. Here is the desk in question, sanded and patched, interior sprayed (because as usual, I realized partway through that I had not taken a before picture.)
Now, when it comes to black, I do not like to prime. It takes several more coats, and even the tinted primers are still gray, and when distressed, it shows. I just make sure I sand really well, and I have trusted Sherwin Williams Tricorn Black in Exterior Grade. I always use it when I use black, and because it is exterior grade paint it has better adhesion and durability. Once the desk was painted, I very lightly distressed it to show off its details, and here it is now. I think it turned out with a charming modern country look.
OK, I like the way that blogger allows you to rearrange pictures better now, but it's kind of hard to get used to!
Linking to…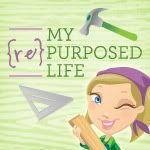 Pin