Happy Wednesday! We had a snow day yesterday and get one today, too! I was productive and cleaned the kids closets and under their beds. I also started a puzzle I plan to work on today…. I know, such an exciting life! 🙂
Last year I declared it the year of the pom pom for me… I was going to learn to make them and I succeeded. I recently wrote a post for Ibby, and with their permission am sharing with you today in case you missed it. It's all about my love for pom poms…. enjoy!
Webster's Dictionary defines warm fuzzies as "feelings of happiness, contentment, or sentimentality." I would argue that hand made pom poms easily generate the warm fuzzies in home decor. When I walk into a room and am greeted by pom poms, I can't help but feel that sense of happiness…. it's a touch of whimsy that tells guests "happy and playful people live here." (60)
Let's take a look at some examples from around the web…
I was first introduced to the joy of the pom pom by a good friend of mine who made this amazing wreath.
In my own home, I created navy blue pom poms (using these pom pom makers!) and added them to some white and gold pillow shams for a playful punch. (40)

Pin
Linda from It All Started With Paint took it a step further than I did and pom pom'ed all around her drop cloth pillow. What a cozy seating spot it created! (30)

Pin
This example is one of my absolute favorites! Besa GM took a favorite plaid blanket that was falling apart at the edges and gave it new life with a fabulous blanket stitch and pom pom border. The plaid blanket alone can seem more serious and preppy, but the pom poms bring on the fun! (54)

Pin
A pom pom garland is another way to add some whimsy to a room. These are relatively easy to make and can be added or taken down easily as well, used only when wanted. Anu of Nalle's House created a colorful version for her son's room. (46)

Pin
If you are looking at all of these projects and being overwhelmed by the mere thought of making pom poms (trust me they are simple to make, just time consuming!), you could go the route of using premade pom poms or pom pom trim! (44)
Mary from At Home on the Bay made this fun and colorful table runner using various colors of pom pom trim. (21)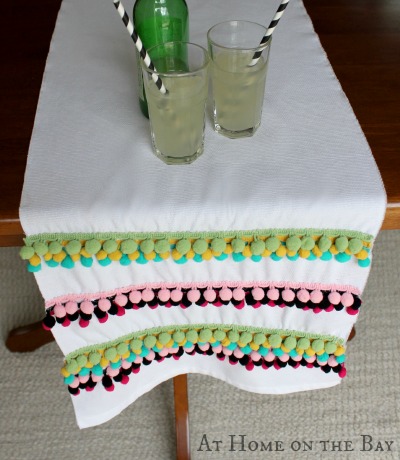 Pin
Adding pom pom trim to existing curtains can take the curtains and the room from heavy to happy. Brittany of Brittany Makes shared her tutorial at 6th Street Design School. And the best part, there was absolutely NO sewing involved! Hot glue, baby! (43)

Pin
The next time you are looking around a room and wondering what that one thing it's missing is, the one element that could make it even cozier and more inviting, consider adding some pom poms. You will end up with the warm fuzzy feeling you want your home to have, and you won't have to dig very deeply into your pockets!
Happy pom-poming!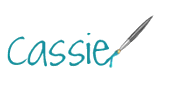 Pin