If you make sure you're connected, the writing's on the wall; but if you're mind's neglected, stumble you might fall, stumble you might fall!
How's that for a blast from the past! But it does pertain to my post today, because I broke the rules and wrote on the wall!
Tuesday I shared my house goals with you and one of those was to paint the shower/tub/toilet area that connects to both the master vanity area as well as the kids vanity area. I have plans also to paint the master vanity black. I don't believe in matchy matchy, but I do believe in rooms flowing, and I wanted to bring some of that black into the kids side. Their space is light and bright and fun, so whatever I added had to suit the fun youthful vibe. I decided to write a saying on the wall, and settled on "you look fabulous" as a fun little affirmation for the kids to see each morning. I figured I would just do it when I painted the vanity or was working with the paint up there; but yesterday I had the black paint out working on some chairs (and using my favorite go to black General Finishes Lamp Black, which I ordered from Rockler) and I NEEDED TO DO IT THEN. Forget dinner; forget picking up the kids at the bus stop or feeding the dog, or that I might have to pee…. just paint that wall. (Luckily it only took 5 minutes, so I was able to function as a human being as well).
When we last left this space, I had just added the amazing gold star decals from Cuckoo4Design Studio on etsy. Before I added those, it was looking like this, with that big blank canvas wall to the right. If you are standing at the master vanity and all doors to the tub area are open, you can see straight to that wall. Here it is (on the right ) big bright and white….
To add the graffiti look to this wall, I first penciled my words on, and then just used an angle brush and went to town. Literally people, this was a 5 minute project. It took me longer to clean my brush than paint the words. And now when you look over from the master vanity, instead of a blank wall, you see this…
And looking in from the hallway…
Reflected in the mirror…
And here is a little detail of my freehand painting…
When the kids came home and saw it they both squealed with delight and Sawyer ran to me hugged me and said "You look fabulous! I love it, Mom! I love you!" I think it's a success. And I love knowing that they will see it each morning as they prepare for the day. I want them to leave here feeling great about themselves, which I think they will.
Have a great day, friends. You look fabulous!


Sharing Here:
Tatertots and Jello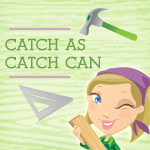 http://www.lizmarieblog.com/2014/01/inspire-please-linky-party-44/