Happy Tuesday! Hope your Monday was drier than mine! I started out with a morning walk with a girlfriend… 10 minutes from the end it started pouring on us! And then it continued to rain all day long… in fact the rain came down so hard that a black snake tried to make his way into the barn while we worked yesterday! I heard a scream, came running, and Terri told me there was a black snake. She had stepped outside to grab something, and sure enough his head was starting to poke through the door. I slammed the door shut and Terri headed for the back door. We didn't see him again, but I was on the lookout every time I stepped out the door! Speaking of the barn, I spent about 5 hours there yesterday cleaning and starting to place items. How about a little peek?
Of course, if you follow Sweet Clover on facebook, you may have already seen this photo and many others in our sneak peek album! We still have tons to do, but we really made some headway yesterday. Only 10 days to go until our first sale! Excited! Nervous! Happy!
Today I have a little piece to share with you that won't be at our barn sale this month, but will instead be up at the Repurposed and Refined warehouse sale where Sarah and I set up a vintage boy's room vignette.
I found this sweet little desk/vanity at a yard sale recently.
At one point in time, it had a skirt attached to it, and it was left with all sorts of little holes that needed filling….
I used my trusty Wunderfil from Rockler. Because these were teeny holes, I only filled once, allowed the filler to dry, and then sanded. I gave the piece an all over light sanding and then hit it with two coats of General Finishes Milk Paint in a new to me color- Millstone. It's a really nice neutral… sort of a greige, if you will. Once the paint dried, I lightly distressed it all over using 160 grit paper. I applied a clear wax, buffed it, and that was that! Oh, and I added this adorable bee knob!
Love those legs!
And a close-up of the knob, originally from Vintage Skye.
I love that this piece without the skirt can be so much more versatile- a desk for either gender, a great hall or entry piece, too!
Well, I am off to the barn yet again for some work and meetings, and then I hope to soak up the sunshine while finishing up a set of chairs! Happy Tuesday, all!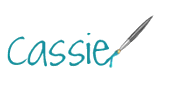 Pin