Hi all! Happy Thursday! Today, I have a special guest. Janel was actually scheduled to be my guest last week but her blog underwent a name change and some other changes and the guest post was not working properly. So she is filling in for me while the kids and I drive back from Massachusetts today.
You are going to love Janel- she was totally worth the wait! She is sweet, funny, down to earth, and has a fun vintage style! Check out her living room….
Isn't it fun? Just like Janel! You are going to love her! And here she is….
Hi guys!! I'm Janel
Pin and I blog over at NellieBellie
Pin I'm so super-charged to be at Cassie's blog today! Cassie is one of my bloggy bff's. Even if she doesn't want to admit she knows it. Guess what Cassie…secret's out!! Whenever I go looking at craft supplies I find totebags for cheap, cheap! But they are tiny. And don't hold much. But they are sooo cheap! So, I decided to find a way to add a bit of room to those cheap totes! And…I wanted to play with my new toy…fabric crayons! Behold…the Aztec Tote Bag.
Pin See the sides…
Pin (yes…you can make them prettier) Alrighty, here's the quickie way to achieve this…
Pin For this bag you need: totebag fabric crayons ricrac black fabric marker duct tape and some way of attaching stuff (needle and thread, sewing machine, fabric glue…whatever)
Pin Cut out the side seam of the tote bag about 3/4 of the way down.
Pin You are going to have to do a quick stitch or two to the top of the seam that is left to keep it from unraveling.
Pin Now take those fabric crayons and make some sort of cool pattern. And I took the black fabric marker and outlined my design and added fake stitching.
Pin In order for that crayon to not rub off you have to run the iron over it for a few minutes.
Pin After that's done you have a blank canvas to add motifs with your fabric marker. I just added dashes in a pattern. It seemed okay.
Pin You should add a new sturdy bottom to your totebag. A simple way to do this is to just take a piece of cardboard and wrap it in Duct Tape.
Pin Now for those sides. You want to add ribbon, ricrac, or fabric strips in graduating lengths up the side. You can get fancy and add full fabric panels or whatever you want.
Pin I always line my totebags with Duct Tape. It makes it sturdy and easier to wipe down. But again, my preference. Not a necessity.
Pin I wrapped the handles in yarn for an added embellishment.
Pin And made a matching tassel. I am NOT good at making tassels. But, unless you get close, you can't tell.
Pin There you have it…my Aztec Totebag. That cheap, tiny totebag now holds my giant amount of magazines! Quite easily, I might add. Hey Cassie…thanks for having me!! And you all…come see me sometime!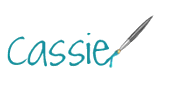 Pin