I don't really decorate much for Valentine's Day, but i like to add a few little touches, especially to the entry way of my house. Here is a look at what I have done…
Please disregard the dog's tennis ball under the chair, and the dying birthday cupcake flowers Emmy received last week. I would have cropped them out, but it would have looked weird to show you just the top!
I made the sign below, and you can see how in the DIY E-Zine located in my sidebar. ( <—– over there!)
And you can see how I decorated these bud vases here.
And this lovely garland was purchased from Target before I discovered my inner crafty self and my silhouette machine!
Also, you may remember that I will be starting up an Etsy shop to benefit my friend's daughter, who was recently diagnosed with Leukemia. My kids have been out of school most of this week, but I had a little time to get some small crafty projects completed, so here is a sneak peek at some items that will be for sale soon!
I will be back later today or tomorrow with POWW faves. You guys really linked up this week- Yippee!
Have a great weekend!
Sharing here:

Pin
Pin
Pin
Pin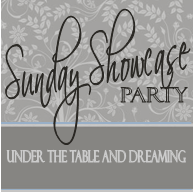 Pin