Happy Monday! Hope you all had an amazing weekend! Ours was busy, but wonderful. Friday evening the kids had some friends over for some sprinkler fun, and the neighbor's daughter spent the night so they could have a date night. Saturday morning, we took her with us to soccer… or I should say Chris took her. I hit some yard sales first for an hour before soccer. 🙂 Here is my loot from just one hour, and I would tell you what I paid for it all, but that would not be nice….
I was so happy I made it in time to see my little star score 6 goals and receive her trophy!
Now that the countertops are in the kitchen, it was time for our frog Annakin to return home to his space behind the sink. (He was in Sawyer's room for a few weeks). He's so happy here, as you can see.
After soccer I ended up working on some of my finds from the morning before taking Emmy to a pool party. When we returned home, I finished my work on them (you will see the dresser below!)
Sunday started as most Sundays do for me- a nice walk with Jake and a couple of my girlfriends. After that, I picked up the match to the dresser that the seller still had, though it's in much worse shape. Then it was off to the Frederick Festival of Arts with Emmy and some friends. We didn't make any purchases, but we loved this pair who were entertaining us at Carrol Creek.
Then it was time for yet another party- this one was at a fabulous garden center near us and the kids had fun getting their faces painted, going on a treasure hunt in the children's secret garden, planting their own flowers, and of course eating cupcakes and cake pops! Here is my Emmy with her pink butterfly cheek.
When we returned home, Sawyer was playing at the neighbor's and Emmy wanted a nap! So we had a nice quiet house for a bit. During that time, my sweet neighbor brought me a beautiful bouquet of daisies! I had found these blue ball jars a couple weeks ago at a yard sale, and was so excited to put them to use. This image is pure simple happiness.
All in all a full weekend, but like I said, full of good things!
Anyhow, I wanted to share the dresser that I picked up at a yard sale Saturday. Yes, it was done the same day. I was excited, what can I say? I just love the style of this dresser and knew I wanted to soften it. I went with my trusty Annie Sloan Duck Egg- just two coats, lightly distressed by hand with 160 grit sandpaper, and then waxed with clear wax. I loved the original hardware, so of course it stayed. Here it is now….
Hope your weekend was fun-filled as well! Back to the grind today. And yikes, only 10 more days of school left!!!!!!!

Pin
Sharing here:

Pin

Pin

Pin
Pin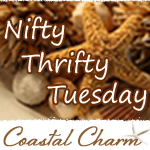 Pin
Pin
Pin
Pin
Pin